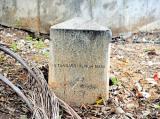 India: Located on defence land in the heart of Bengaluru, a 19th-century stone slab, which was part of the century-long GPS survey, is in danger of being destroyed as no one is aware of its historical significance.
The 'Standard Bench Park – 1907' stone on Cubbon Road was part of the Great Trigonometrical Survey of India, a century-long survey of British areas mooted by British officer Col William Lambton. The survey's baseline started in Chennai.
The benchmark stone at Cubbon Road is now surrounded by garbage and is poorly maintained. Defence personnel express ignorance about the structure and its maintenance and say it is a part of the army supply depot and parking area.
The three other stones are better maintained. One is on the steps of Kempegowda Tower at Mehkri Circle, another on the steps of Queen's Statue in Cubbon Park and the third at Trinity Church. These are the forgotten relics of a past era which describe Bengaluru's history, historian and pannapictagraphist, Arun Prasad said.
These stones are important as even today's geographical mapping is based on these studies and stone slabs. These slabs also led to measuring the highest point on earth, the Mount Everest, Prasad said.
The British had planned to lay a baseline from Chennai to Mangaluru. Though the baseline started in Chennai, Bengaluru was the starting point for the survey. This work is known as the greatest human endeavour, as it took a whole century and the number of surveyors and workers exceeded the war victims, including Col Lambton.