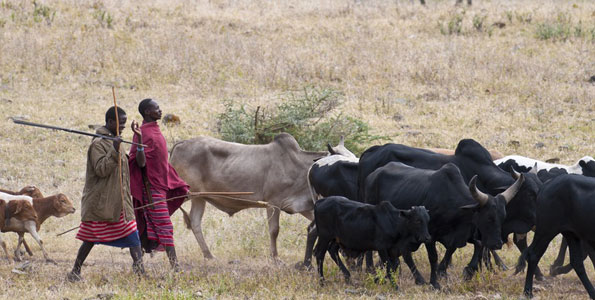 Tanzania: In a bid to halt frequent, sometimes deadly clashes between farmers and cattle herders over land and scarce water resources, the govt. of Tanzania is planning to deploy drones to speed up land mapping in rural areas. In 2014, local media reported repeated outbreaks of fighting over land in Tanzania's northern Manyara region, resulting in several deaths.
More recently, farmers in the southwestern Morogoro region killed hundreds of cows, sheep and goats in February, accusing their owners of letting the animals trample on their crops. They blamed a lack of officially demarcated boundaries for the unrest.
Aided by drones, more than 300,000 title deeds are expected to be issued in Ulanga, Kilombero and Malinyi districts in eastern Morogoro, under a project by the World Bank and a local parastatal, the Commission for Science and Technology (COSTECH). The titles are expected to be issued within a year of successfully using the new technology, officials said.
"The use of drones will help us to define the boundaries of plots of land on the ground with great accuracy," said Samuel Msaki, a senior land mapping official at the Ministry of Lands, Housing and Human Settlements Development.
GPS-enabled drones, also known as unmanned aerial vehicles (UAVs), can be used to conduct precise aerial surveys by capturing high-resolution images that national planners can use to identify and digitize actual boundaries of disputed land.
Land experts say drones can get the work done more quickly and cheaply than traditional mapping methods, which involve deploying surveyors to remote areas for weeks at a time. Those working on the drone project say it would strengthen security of tenure, boosting agricultural production and helping farmers to better plan their investments.
Farmers and nomadic livestock herders have hailed the initiative, which is part of a $15.2 million Land Tenure Support Program the government launched in February to increase transparency and efficiency in the land sector for the benefit of the poor.
"There are just too many border disputes in this area. When my land is legally recognized, I will have my peace of mind," said Hamisi Mwinyimvua, a rice farmer in Kilombero district. "When I get my land title, I will use it to access credit from the banks for expanding my farming," he said.
While poor farmers have been using swaths of land for years to grow crops, analysts say most have no formal documentation to prove they own the land. This leaves them at risk of losing their land to large-scale infrastructure, tourism and development projects, they say.