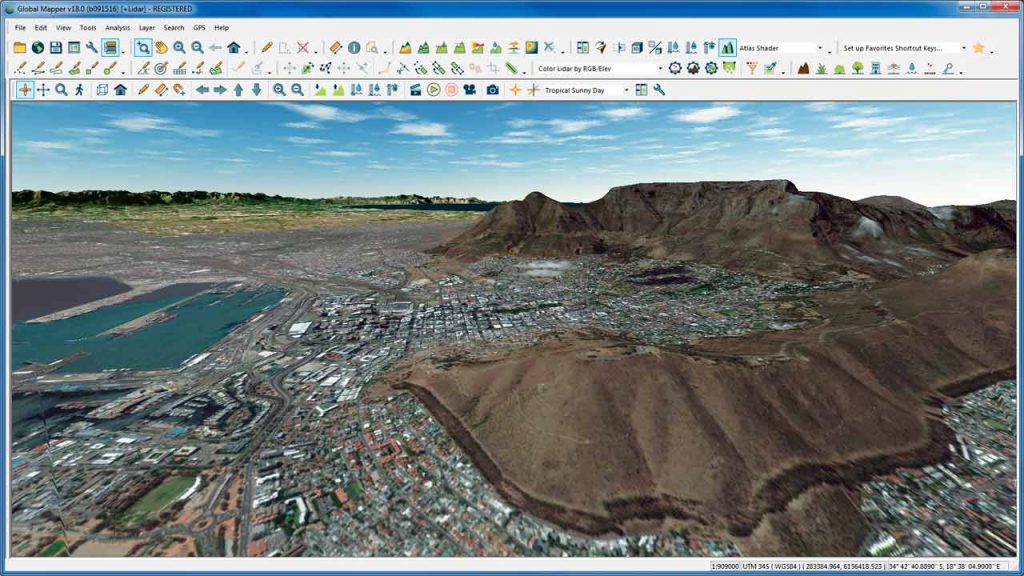 US: Blue Marble Geographics has announced the immediate availability of Global Mapper version 19.1. This intermediate release augments the impressive list of new features and functions that were introduced in version 19.0 with even more new tools and improvements to the existing functionality. Highlights of this release include a completely redesigned attribute querying tool; a new option to save and export 3D lines from the Path Profile tool; support for drag-and-drop docking of most floating windows; and the ability to create a 3D mesh in the LiDAR Module's Pixels-to-Points tool.
Blue Marble's GIS software is used by hundreds of thousands of satisfied customers throughout the world who need affordable, user-friendly, yet powerful GIS solutions. Users come from a wide range of industries including software, oil and gas, mining, civil engineering, surveying, and technology companies, as well as government departments and academic institutions.
Driven by the ever-changing needs and requirements of the GIS community, Global Mapper has earned a worldwide reputation as a low-cost but fully-functional alternative to traditional GIS applications. Over its 20-year history, the software's evolution has followed an aggressive and ambitious development path with each successive version introducing a broad array of new features and functions. The release of version 19.1 is no exception with new and enhanced capabilities throughout the application.
Building on the new tabular Attribute Editor, which was unveiled in the 19.0 release, version 19.1 introduces a powerful new multivariate attribute search tool supporting advanced user-defined functions and expressions. The new interface also incorporates the attribute join and calculate tools creating a consolidated, one-stop location for all attribute management functions. Version 19.1 also expands Global Mapper's drag-and-drop widow docking options with the Map Layout Editor, Coordinate Converter, and 2D Map Views now dockable around the primary map window.
Illustrating the ever-increasing importance of 3D data, version 19.1 of Global Mapper includes an enhanced 3D Viewer, allowing the user more precise control over the process of zooming and panning. The popular Path Profile tool now includes the option to capture the linear path of a profile line as a 3D vector line feature. Used in conjunction with the Perpendicular Profile function, this can be used to create a stunning three-dimensional representation of the terrain displayed as a series of parallel 3D lines.
"Version 19.1 of Global Mapper is considered a minor release but this is not borne out in the extensive list of new and upgraded functionality," stated Blue Marble's President, Patrick Cunningham. "Our development team has been working flat out to incorporate many of the features and functions requested by the growing Global Mapper community. We are especially excited about the ability to export and render the path profile as a 3D line providing even more scope for 3D analysis and modeling."
Also included in the 19.1 release is a powerful addition to the Pixels-to-Points tool. Included with the supplementary LiDAR Module, Pixels-to-Points is used to create a high-density 3D point cloud from overlapping UAV-collected images. New in the 19.1 release is the option to create a 3D Mesh complete with photorealistic textures.