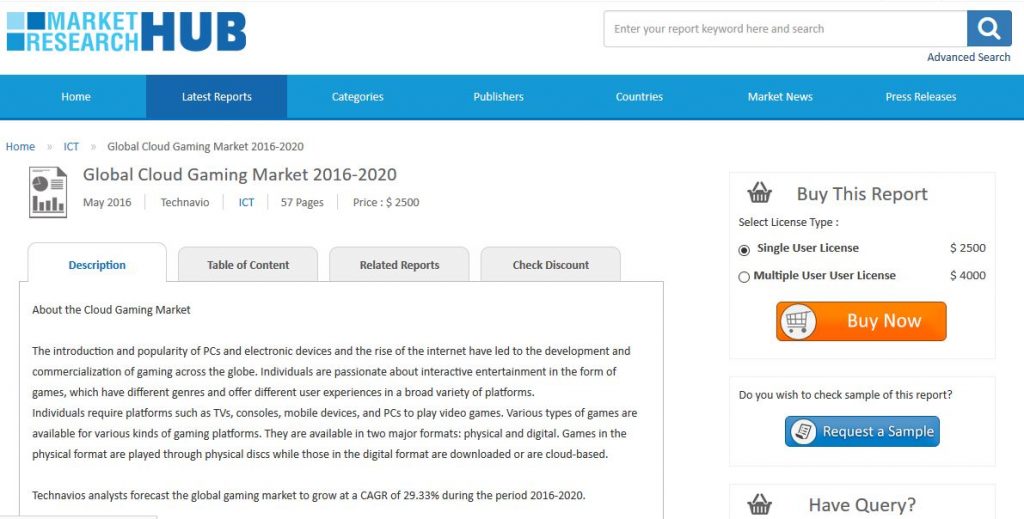 US: The Global Cloud Gaming Market will exhibit a growth rate of 29.33% from 2016 to 2020, according to a new report by Technavio. As the global gaming industry has contributed reasonably in technology advancements, the market research firm in its report added, recent changes in app stores, mobile device technologies, freemium business models, and social networks have drastically shifted the entire gaming industry.
The report also talks about how mobile gaming has shifted towards internet gaming through social networking sites such as Facebook and cloud gaming in latest trends. The popularity of different types of online games is rapidly growing. The availability of different platforms is expected to comfort gamers. For one thing, cloud gaming is expected to benefit the global gaming market. It creates an opportunity to run games faster and access them as easily as accessing movies and music.
Browse the full report here
This 57-page research report on the global cloud gaming market defines cloud gaming and further briefs about the recent trends in cloud gaming. The research report states that the market is predicted to expand at a 29.33% CAGR from 2016 to 2020. Primarily, reduced cost of cloud gaming platforms, minimum installation time, and the growth in free-to-play models are some of the factors expected to boost the global cloud gaming market.
Request a sample report in PDF format using this link
High penetration of resource-limited devices and mobile devices will increase the demand for cloud-gaming services, predicts a research report added by Market Research Hub to its repository of reports. The report also profiles all leading players operating in the global cloud gaming market along with their developments. G-Cluster, Nvidia, PlayGiga, Sony Computer Entertainment, Ubisoft Entertainment, Amazon, CiiNOW, Crytek, GamingCloud, Google, Happy Cloud, IBM, Microsoft, and Nintendo are some of the prominent players operating in the global cloud gaming market.