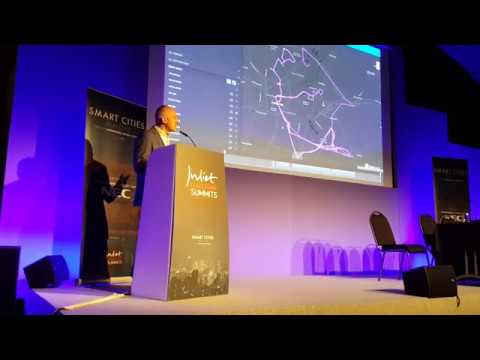 UK: GeoSpock – the extreme-scale, data integration company that provides analytics, builds insight, and enables predictions across space and time – today announced that it has secured the Smart Transport Award as part of the Liverpool Mayor's Challenges for Smart Cities Realised.
Harnessing geospatial data enables cities to work smarter, GeoSpock's solution proposes improvements to the mobility of Liverpool's citizens, while also significantly reducing the city's environmental footprint. The platform allows the input of historical and current statistics, as well as the subsequent tracking and analysis of these disparate datasets. Meeting the Transport Challenge's sustainability criteria, GeoSpock's solution will deliver tangible results to the identified issues and provide additional opportunities beyond the scope of the project. The prize for the most innovative submission is a proof-of-concept project for Smart Transport Liverpool and formal partnership with the city council, which GeoSpock will commence immediately.
The event was just one component of The International Business Festival, which saw the coming together of a number of global smart cities to share ideas, review technologies, and provide significant opportunities for the future in a market that is predicted to top over $2.4 trillion in 2025. Ideas were presented to a panel of experts, including Deputy Mayor of Liverpool Ann O'Byrne, Dr Jonathan Reichental, Cllr James Noakes, Professor Paul Morrissey, and Carl Piva. GeoSpock was awarded its winning status after delivering a crucial understanding of local blockers and demonstrating an effective solution that can be applied to the real world.
The data visualization company is fast establishing itself as the de facto processing engine at the heart of next-generation smart infrastructure – including smart cities and the Internet of Everything (IoE). The company is also powering future mobility applications, such as the management of autonomous vehicle fleets, by working with businesses across the automotive, telecoms, mobility, media, and retail sectors.
Richard Baker, CEO at GeoSpock, comments: "We are delighted to win the Smart Cities Realised, Smart Transport Challenge. Location Intelligence as a Service is fast becoming an important part of smart city development and this award is a testament to the GeoSpock team's innovation. We are looking forward to developing our relationship with Liverpool City Council and helping their smart city vision become a reality."