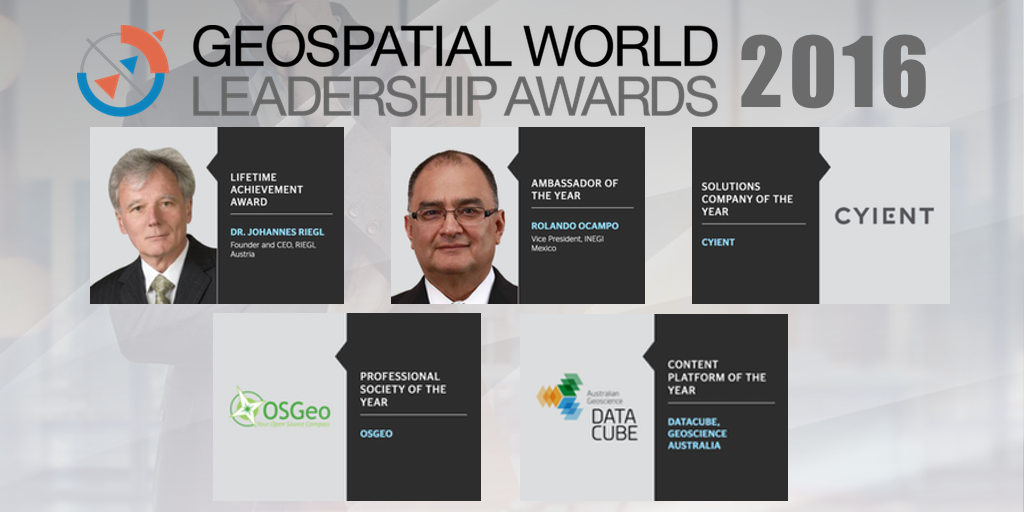 Geospatial World Leadership Awards 2016 will be presented to the winners on January 23, 2017 in India during Geospatial World Forum 2017 conference.
Noida, India: Geospatial Media and Communications is pleased to announce the winners of Geospatial World Leadership Awards 2016. Dr. Johannes Riegl, Founder & CEO, Riegl, has been honoured with the 'Lifetime Achievement Award'. Rolando Ocampo, Vice President, INEGI, Mexico, on the other hand, has bagged the 'Ambassador of the Year' award. Other winners include: Cyient for 'Solution Company of the Year; OSGeo for 'Professional Society of the Year'; and Australian Geoscience Data Cube for 'Content Platform of the Year.
The awards will be presented to the winners on January 23, 2017, at Hyderabad International Convention Centre, Hyderabad, India, during the gala night of Geospatial World Forum 2017.
Geospatial World Leadership Awards are a testament to the skills, innovation and contributions of influential leaders, organizations and enterprises.
Announcing the awards, Sanjay Kumar, CEO of Geospatial Media and Communications said, "Geospatial industry is reaching new heights every year. Recent trends like workflow-based solutions, need for open and accessible data, and geospatial data fusion, are well-reflected in the works of the winners." He also addressed the major contributions made by Dr. Johannes Rigel in democratizing LiDAR with reliable and precise sensors, and recognized Rolando Ocampo for his impeccable leadership in driving UN-GGIM in Americas.
About Geospatial World Forum
Geospatial World Forum is known as the only conference covering the entire spectrum of geospatial technologies, workflows, policies and practices in one global platform. Founded in Hyderabad in 2007, the conference has travelled to Amsterdam, Geneva, Lisbon and Rotterdam. GWF is coming back to Hyderabad in 2017, and being co-hosted by Survey of India and Indian Space Research Organization. Scheduled to take place from January 23- 25, 2017, the conference is expected to witness participation of 3000+ delegates from 100 countries. The event will be action packed with more than 30 thematic sessions and workshops with over 300 presentations.
About Geospatial Media and Communications
Known for its quality publication and insightful geospatial conferences, Geospatial Media is a global organization that believes in making difference through geospatial knowledge in world economy.
About Geospatial World Leadership Awards
Established in 2007, by Geospatial Media and Communications, Geospatial World Leadership Awards have evolved as the premium geospatial awards and are recognized globally. Categories of these awards are aligned with characteristics and directions of the geospatial industry.
Media Contacts
Harsha Vardhan
Harsha [@] geospatialmedia [.] net
Tel: +91-120-4612500
Sanskriti Shukla
sanskriti [@] geospatialmedia [.] net
Tel: +91-120-4612500