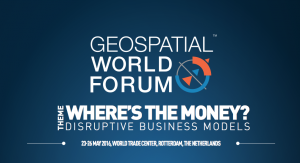 The Countdown stops here. The 8th edition of Geospatial World Forum 2016 kicks off today in The Netherlands. The theme of the event this year is – Where is the money, which is most disruptive business model of geospatial industry today.
The four-day event aims at enriching the geospatial ecosystem with market intelligence, technology trends, success stories and capacity building.
Various dignitaries and experts from the geospatial sector and delegates across more than 90 countries marked their presence in the event. In four days they will provide the best opportunity for learning, sharing, connecting, branding and networking.
The event on its first day hosted several leaders from geospatial industry like Chris Gibson, Vice President, Trimble; Ewout Kopershoek, Executive Vice President, Topcon Positioning Systems; Taner Kodanaz, Director, Industry Leadership Champion
DigitalGlobe; and Timothy Trainor, Chief of the Geography Division of the US Census Bureau. The distinguished guests discussed various topics like Geospatial Platform Empowering Workflows, System Integration, and Business Opportunities of Location Intelligence.
The forum also featuring an exhibition that aims to provide a platform to various market players like ADCC, 2CoolMonkeys, Bentley, Harris Geospatial etc., and showcase their products and enhance their business opportunities.