New Delhi: Location has become fundamental to every human activity and advancements in the fields of Artificial Intelligence, Internet of Things, Robotics and Big Data have been getting integrated with geospatial workflows and processes. This transformation is bringing a collaborative approach to expand the horizon of geospatial applications.
In this background, Geospatial Media and Communications is thrilled to announce its new Global Advisory Board, comprising of eminent thought leaders who are making a significant difference to the geospatial industry as well as global economy and society with their vision and acumen across different segments of the geospatial value chain.
The Global Advisory Board Members will strengthen the vision, mission, values, and principles of Geospatial Media and Communications, which have been evolving along with the changing fabric and scope of the geospatial industry. Their diverse professional insights and personal commitment towards the larger objectives of Geospatial Media and Communications will be instrumental in shaping and supervising its business directions and dimensions.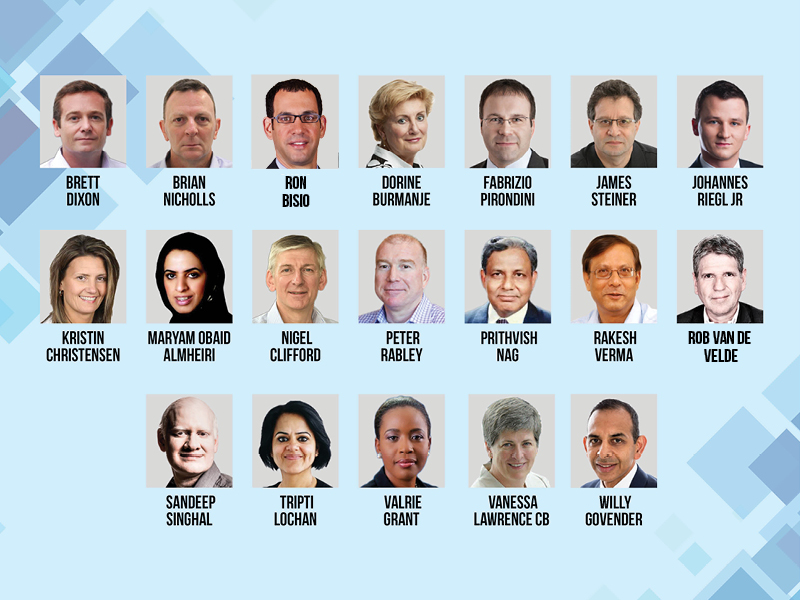 The Global Advisory Board members are:
Brian Nicholls, General Manager and Director, AAM Group, Australia
Ron Bisio, Vice President, Geospatial, Trimble in our Advisory Board, USA
Dorine Burmanje, Chairperson, Dutch Kadastre, The Netherlands
Fabrizio Pirondini, CEO, DEIMOS Imaging, Spain
James Steiner, Vice President, Oracle Server Technologies, USA
Johannes Riegl Jr, CMO, RIEGL, Austria
Kristin Chirstensen, CMO, Hexagon Group, USA
Maryam Obaid Almheiri, Director – GIS Department, Dubai Municipality, UAE
Nigel Clifford, former CEO, Ordnance Survey, UK
Peter Rabley, Partner, Omidyar Network, USA
Dr Prithvish Nag, former VC of Mahatma Gandhi Kashi Vidyapith, India
Rakesh Verma, Managing Director, MapmyIndia, India
Rob van de Velde, Director, Geonovum, The Netherlands
Sandeep Singhal, Senior Director, Cloud Storage, Google, USA
Tripti Lochan, CEO, VML, SEA & India, Singapore
Valrie Grant, Managing Director, GeoTechVision, Jamaica
Dr Vanessa Lawrence CB, Senior Strategic Global Geospatial Advisor, Governments and Inter-Governmental Organisations, UK
Willy Govender, Director & Founder, Eduworks, South Africa
While announcing the members of the board, Sanjay Kumar, CEO, Geospatial Media and Communications said "We have been consistently transforming and evolving the scope, coverage, and impact of our media and communication platforms, while pursuing our vision and commitment to 'make a difference through geospatial knowledge in economy and society'. Following our principals of shared vision and collaborative spirit, we have set up the Global Advisory Board to help and guide our team in evolving the organization to serve larger interest of geospatial industry and its relevance in global economy and society."
About Geospatial Media and Communications
Geospatial Media and Communications is an internationally accredited organization, having committed itself to serve stakeholders of geospatial community and work towards opening new era of industrialization, while facilitating collaboration and demonstrating value and benefits of geospatial technology and information for governance, businesses and people.
For additional information please contact:
Harsha Vardhan
Email: [email protected]
Sanskriti Shukla
Email: [email protected]
Tel: +91-120-4612500
Web: https://geospatialmedia.net/
Twitter: @geoworldmedia