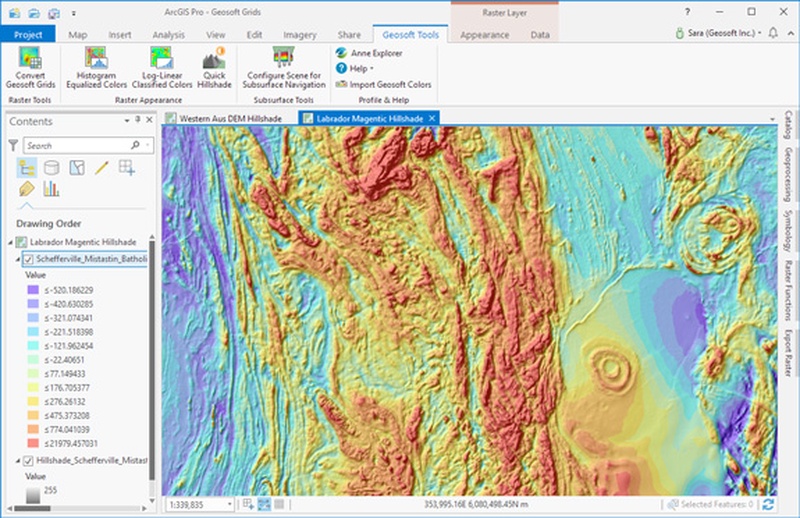 US: Geosoft, a geoscience software leader, has released a new add-in for importing and viewing Geosoft raster files within ArcGIS Pro, Esri's next-generation desktop GIS.
"Geosoft has a long-standing partnership with Esri that's enabled us to deliver essential workflows for geoscience and GIS professionals working on the ArcGIS platform," said Sara Deschamps, Product Manager, Geology and GIS at Geosoft. "Our Add-In for ArcGIS Pro is the latest in our ongoing effort to enhance integration and empower advanced geoscience analysis within Esri's world-leading GIS platform."
The Geosoft Add-In for ArcGIS Pro enables customers to seamlessly import, convert and display Geosoft surface and subsurface raster files in ArcGIS Pro. New capabilities include:
2D and 3D Visualization – view geophysical or geochemical Geosoft raster files (.grd) quickly and easily in ArcGIS Pro.
Format Conversion – convert multiple Geosoft raster files (.grd) into Esri formats to perform raster analysis or geoprocessing in ArcGIS Pro.
Import without georeferencing – import sections or subsurface rasters and display them in an ArcGIS Pro 3D scene with their correct location and orientation.
Symbology and Shading – apply geoscientific color methods to enhance important details in your raster dataset and improve interpretation.
"This integration is a great step towards more streamlined workflows that will save our shared customers time, effort and money," said Geoff Wade, Team Lead for Natural Resource Industries at Esri. "As a long-term partner, we're excited to see Geosoft actively invest for the future by integrating their established and respected geoscience workflows with the latest Esri technology."