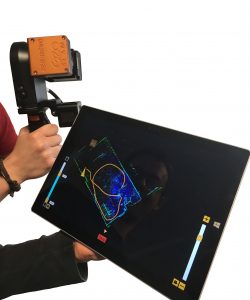 UK: GeoSLAM, a pioneer in "Go Anywhere" 3D mobile mapping, is launching the latest version of its award winning Slam registration software and ZEB-REVO mobile scanner at INTERGEO 2017 in Berlin.
Solutions developed by GeoSLAM are easy-to-use and time saving, and also ensure that the job is completed 10 times faster than the traditional survey tools. It also cuts cost by 66%.
GeoSLAM Hub, the next, updated version of GeoSLAM Desktop software, is to be released officially at the conference and trade fair being held on September 26-28 in the Berlin Exhibition Centre, Germany.
GeoSLAM Hub enables end-to-end data capture and allows for merging 2D and 3D deliverables within one software package.
Mark Reid, VP of Product Management at GeoSLAM, says "GeoSLAM is changing the economics of 3D laser scanning with the launch of GeoSLAM Hub at InterGEO." He further adds that "Our latest software offering is truly an 'All in One' solution for 3D point cloud manipulation."
Built on the strength of GeoSLAM desktop, the Hub can process anywhere, anytime and with even more functions. One new feature is GeoSLAM using which 2D plans, sections and elevations can be created from a 3D point cloud.
ZEB-REVO RT, the next generation of ZEB-REVO mobile scanner, will also be launched at INTERGEO 2017.
ZEB-REVO RT can scan and process data simultaneously, thus reducing the survey time by almost half. 3D scanned image is displayed on the cellphone or tablet in real-time, and it allows for a quick feedback on data quality and coverage.
GeoSLAM is displaying both these high-end technological product developments at their booths. Hourly live demonstrations of the technology are also there at the auditorium.
For more information on GeoSLAM at INTERGEO 2017, feel free to visit the official page.