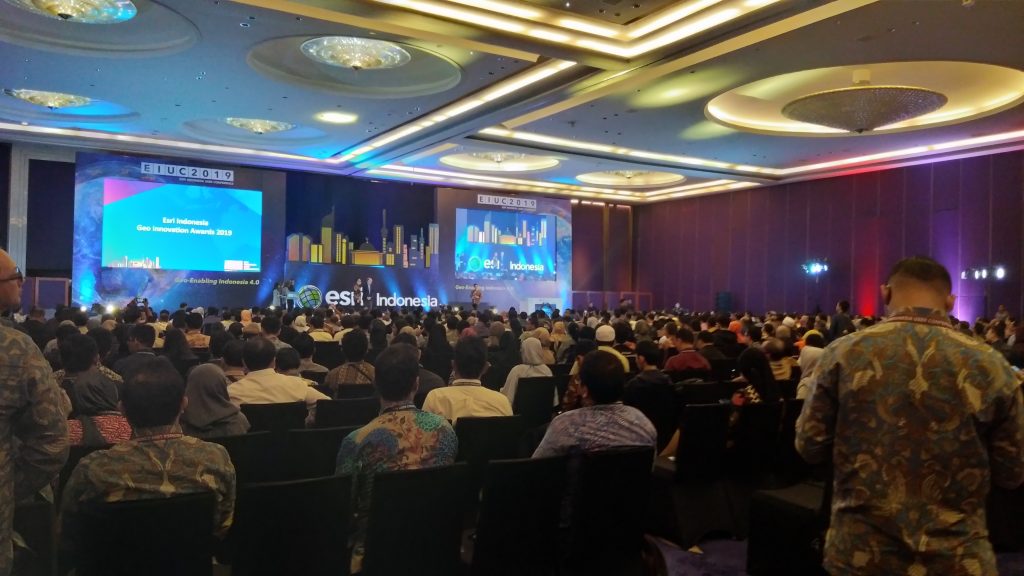 Indonesia: Esri Indonesia announced the winners of the prestigious GeoInnovation Awards at the country's largest geospatial event – the Esri Indonesia User Conference 2019 held in Jakarta.
The inaugural awards ceremony is an industry-first and aims to showcase inspiring geospatial innovation in Indonesia. The award recognizes both public and commercial organizations for their innovative use of geospatial technology in addressing real-world challenges in industries and communities.

The awards were given by Jack Dangermond, Founder and President of Esri, Dr. A Istamar, CEO of Esri Indonesia, and Leslie Wong, Managing Director of Esri South Asia.
The recipients of the prestigious award include DKI Jakarta Provincial Government, Ministry of Energy and Mineral Resources (MEMR), Badan Meteorologi, Klimatologi, dan Geofisika (Department of Meteorology, Climatology and Geophysics) and Pertamina Hulu Energi (oil & gas company.
"The winners of the GeoInnovation Award are demonstrating how geospatial technology is key in enabling digital transformation, building more progressive organizations and creating safer communities," Dr Istamar said.
"They tested the bounds of what geospatial technology can do to solve some very pressing and real problems, for which there are no traditional solutions," he said. "Their actionable leadership and forward-thinking approach to digital transformation are truly remarkable and we at Esri Indonesia are confident that their efforts will contribute in inspiring a nation of spatial thinkers."
The winning projects of the GeoInnovation Award winners include:
DKI Jakarta
Jakarta Satu is a Smart Community initiative of the government of DKI Jakarta, which aims to leverage geospatial technology to integrate, analyze and disseminate spatial data to support data-driven public policy making. It is also to ensure that ongoing city developments can make the lives of their citizens better, today and into the future.
Ministry of Energy and Mineral Resources (MEMR)
As part of efforts to align the management of spatial data with the One Map policy, MEMR's Centre of Data and Information Technology Unit developed a Web-GIS platform called ESDM One Map Indonesia – using ArcGIS Enterprise – that is to offer spatial information on geological potentials, working fields, upstream oil and gas data and power infrastructure.
Pertamina Hulu Energi (PHE)
The acquisition of a substantial new working area over the past three years has led to PHE becoming one of the nation's largest oil companies. Operationally, this means that the company must process huge amounts of data from multiple sources. PHE XD World is a geospatial infrastructure platform where PHE users can access all the information related to the assets they need. This system is designed for quick, real-time access and assessment (subsurface, production, surface facilities, acquisition, etc.)
Badan Meteorologi, Klimatologi, dan Geofisika (BMKG)
BMKG created an innovative Weather Traffic Prediction application, a weather information product produced from the NDF system (National Digital Forecast) which will serve as a key landline product for various large islands in Indonesia such as Sumatra, Java Kalimantan. This comes part of BMKG's Innovation 4.0 initiative which involves advanced use of GIS to process IoT data, incorporating Big Data Analytics and Artificial Intelligence.
Collaboration key to leveraging the power of GIS: Jack Dangermond
In his keynote address, Jack Dangermond said that the power of GIS in the Indonesian society will depend on being able to collaborate, share and learn from each other. He also shared his vision for GIS as an intelligent nervous system, a vision that will guide to make Indonesia smarter and facilitate coordinated action. He stressed that the work of GIS professionals is influencing and creating the future of Indonesia.
The Esri Indonesia User Conference 2019 gathered more than 600 professionals and key stakeholders. According to Dr A Istamar, Esri Indonesia is working closely with organizations across a variety of industries to nurture the country's growing spatial community. Prior to the Esri Indonesia User Conference, Esri Indonesia hosted a well-attended specialized industry group on Natural Resources Group which consisted of Oil and Gas, Mining and Plantations.