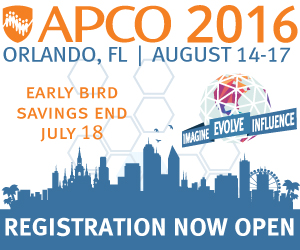 US: GIS solutions provider, GeoComm has announced to be present at the 2016 APCO Annual Conference and Expo being held from August 14-17 in Orlando, Florida. The company is looking forward to share the latest industry developments with GIS for Public Safety, particularly for Next Generation 9-1-1 (NG9-1-1) at our booth number 1218.
In some of the key products and services that will be displayed at APCO 2016 booth will include:
Enterprise GIS Data Management Solutions: Our Enterprise GIS Data Management Solutions that enable users to take control of their GIS data and meet NG9-1-1 requirements. These solutions empower agencies interested in managing their own public safety GIS data but do not have all the tools they need to build GIS data that meets or exceeds 9-1-1 MSAG accuracy and provision it into a live NG9-1-1 system.
GIS Service Package Offerings: We offers three different levels for updating and developing your GIS data. Our basic package includes the GIS layers required by NENA's NG9-1-1 GIS standard, while our standard package adds the layers strongly recommended by NENA for NG9-1-1, and the premium package further includes ongoing GIS maintenance for three years.
GeoLynx Server: NG9-1-1 PSAP Mapping System: GeoLynx Server combines detailed GIS base maps with real-time emergency call handling telephony, Computer Aided Dispatch (CAD), Automatic Vehicle Location (AVL), and other real-time and historic emergency event data.
GeoLynx Server is ideal for emergency call handling centers, emergency operations centers, and homeland and national security environments. It is part of a vendor agnostic, end-to-end NG9-1-1 GIS solution that can interoperate with any vendor brand of NG9-1-1 PSAP and network equipment.
In addition to our many booth activities, GeoComm's Senior Product Manager Brooks Shannon along with Mike King from Esri, and Todd Piett from Rave Mobile Safety on Leveraging Your GIS Investment for Location Accuracy breakout session on Monday, August 15, 2016 from 4:20 – 5:20 p.m.
In this session, attendees will hear from GIS experts about new developments in the field. There will be real-life examples of how "z coordinate" (elevation) intelligence and 3-D cityscape and building interior renderings are being used to reduce response times. The session will also include the results of real-life indoor location testing and explore what indoor mapping may look like at the PSAP of the future.