The first of its kind GeoBuild Infrastructure Summit 2013 was held in New Delhi, India on Wednesday, November 20, 2013. The conference brought together experts from the AEC industry and Infrastructure industry across India. Inaugurating the conference, Dr M.P. Narayanan, Chairman, Geospatial Media & Communications, discussed some of India's 'big ticket' infrastructure projects and highlighted the role of geospatial technology in them.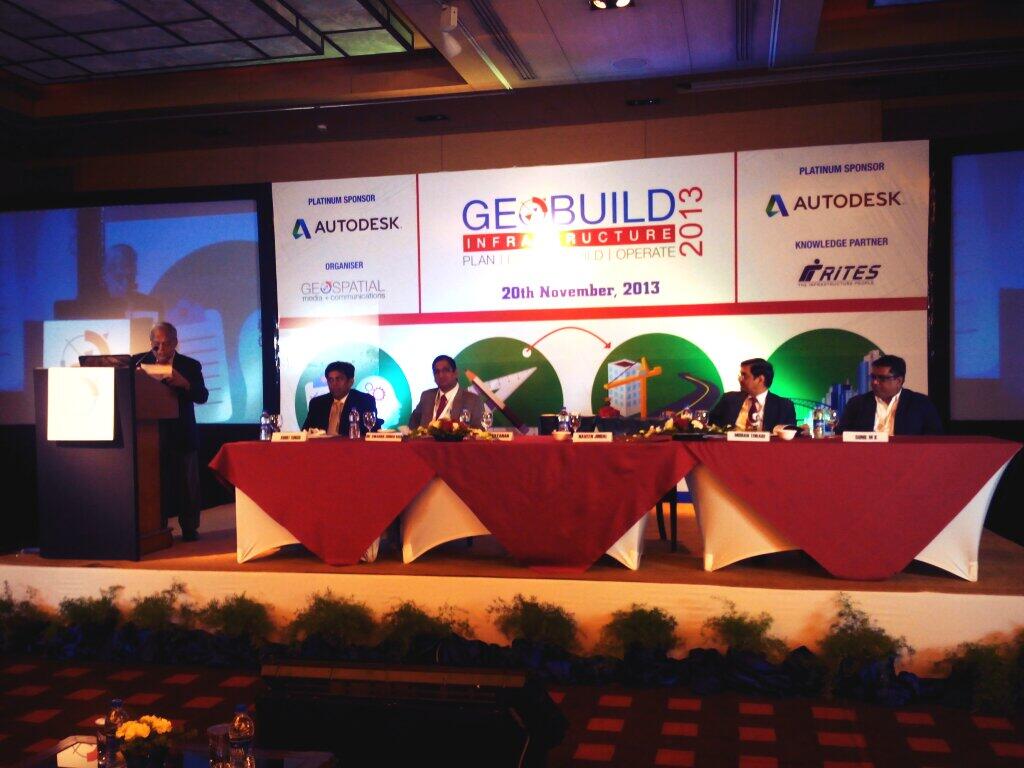 Sunil M.K., Head, AEC (India), Autodesk, gave a brief overview of the transport industry and how it is benefitting from the use of geospatial technology. He discussed how traffic is unpredictable in India and by having a proper infrastructure in place could solve the problem. He highlighted how BIM is essential for the transport industry to deliver intelligent simulation analysis to the operators. BIM has been mandated in Japan, China and building and construction industry in Singapore which are reaping the benefits in terms putting in place good infrastructure, he said. However, in India, "45% of infrastructure projects are delayed and around 20-22% of them have budget overruns by 200% due to lack of adoption of technology, which could be solved by adoption of BIM and geospatial technology."
He stated examples of some real world problems where transport projects were fast tracked with the help of GIS, BIM and augmented technology. Sunil also mentioned that, 15% incentives were given to construction industry who adopted 3D technology in their processes, under Obama's administration in 2011.
"Infrastructure is a force multiplier," said Rohit Singh, Joint Secretary, MORTH. He highlighted how technology is used in all the phases of infrastructure lifecycle whether it is planning, designing, building and operations and management.
Chief Guest Naveen Jindal, Member of Parliament and Chairman Jindal Steel Power Ltd. which is one of India"s major steel producers with a significant presence in sectors like Mining, Power Generation and Infrastructure, gave a brief comparison between infrastructure projects of India and the developed world. "The pace and quality of Indian infrastructure bothers me. In order to reduce the costs and increase the speed of construction processes the country needs to adopt new and innovative technologies," he said.
Dr. Subba Rao, Surveyor General of India, talked about the various initiatives taken by the national mapping agency across the country. The SoI has covered the entire country in 1:50,000scale and these maps are now available in digital format. The Integrated Coastal Zone Management maps are available in digital format too. "We have initiated a process to map the whole country at a scale of 1:10,000 whereby the map will be produced in digital format from the field itself." These maps will be available in GIS compatible formats.
Mohan Tiwari, CMD, IRCON, talked about how their profits increase with the help of GIS technology. They made a profit of 1.68billion rupees 5 years ago and 10billion rupees last year by using GIS. He talked about how they reconstructed the railway line in Jaffna region with the help of satellite imagery. Tiwari also talked about their construction of a railway line in J&K where the terrain was unmappable.
The conference was organised by Geospatial Media and Communications to provide a platform to leading figures for addressing the challenges and opportunities of the Infrastructure sector in India and showcase of solutions that can help them gain more accurate, accessible, and actionable insight which can benefit throughout the execution and lifecycle the projects. The main objective of the conference was to discuss state-of-the-art technology and seed the development of innovative ideas in transport and logistics management.
Source: Our Correspondent
Related Links:
'Geo-enabled technologies necessary for sustainable infrastructure'