Amsterdam: GEOBIM 2019 conference is inviting nominations for the GEOBIM Awards. The GEOBIM Awards recognizes and celebrates organizations who continue to perform par excellence by implementing digital technologies in the Architecture, Engineering and Construction industry. The Awards will be presented on the occasion of the GEOBIM 2019 conference, being organized 11th-12th November 2019, in Amsterdam, The Netherlands.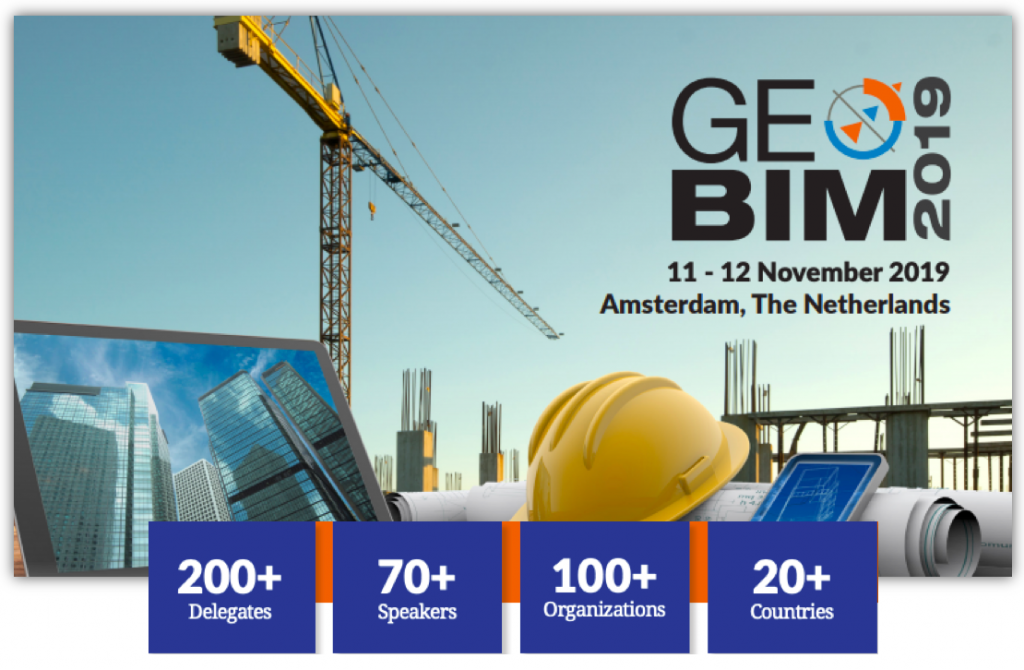 The awards will honor those bright organizations and individuals who are constantly experimenting and creating new solutions to advance the digital revolution in the AEC industry.
The nominations are open for the following categories:
Leadership in Architectural Practice
Leadership in Design Engineering
Leadership in Digital Construction
Leadership in Digital Innovation
Leadership in Asset Management
Most promising start-up in the AEC industry
Architecture firms, Engineering firms, Construction companies, Project owners, ports, etc., owns the innovation, or has formulated and implemented a policy. The nomination for the award categories can be submitted here: https://www.surveymonkey.com/r/GEOBIM2019-award-nomination
Registration: Early bird registration for the conference is also open now. An early bird discount of 35% is on offer till 10th October 2019; after which full price registration will apply. More information here: https://geo-bim.org/europe/
About GEOBIM Conference
GEOBIM is an exclusive platform in Europe wherein dialogues are initiated across the geospatial and the Building Information Modelling (BIM) community for utilizing integrated solutions, i.e. spatial technologies and BIM – duly augmented by digital technologies (IoT, Cloud, AR/VR) etc., to intelligently model construction projects. GEOBIM aims to highlight the role of geospatial information and technology in BIM processes, combining engineering processes with the design processes to increase efficiencies and reduce costs. The annual gathering of leading executives from the world of Architecture, Engineering, and Constructions (AEC) will convene in Amsterdam, the Netherlands from 11th -12th November 2019. Website: https://geo-bim.org/europe/
This year, GEOBIM shall focus on facilitating discussions between the users, policymakers and the technology providers with a problem-solving approach. The sessions at the summit will address the current priorities and opportunities available with the AEC industry to enhance the delivery of future projects. Also, the sessions will delve into the influence of new trends such as the internet of things (IoT), augmented reality (AR) and virtual reality (VR), drones, robotics, cloud, 3D simulations, 3D printing, etc.
The conference is organized by Geospatial Media and Communications, and in partnership with Autodesk and FARO as Gold Sponsors of the event; BRGM and Ballast Nedam as Content Partner, Geodan as Strategic Partner; BIM Academy, Geobusiness Nederlands, OGC, BIM Loket, Bouw Informatie Raad, and buildingSMART International as Supporting Partners. The conference is going to be covered by GeoConnexion, BIGNieuws, Geospatial World and the BIM Community.