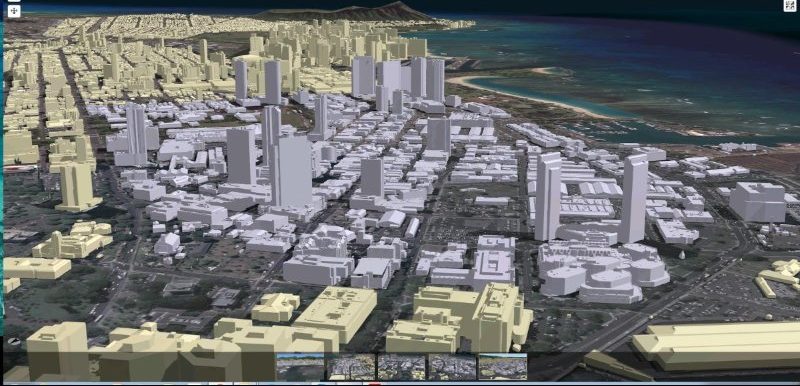 UK: GD3D, a leading 3D GIS consultancy for the Esri platform based in Cumbria, United Kingdom,  has announced that an agreement has been signed with CyberCity 3D, Inc. (a California 3D geospatial content company) to resell high-quality 3D building data as part of a 3D streaming service on Esri's ArcGIS Marketplace.
"We know of GD3D's expertise in 3D GIS on the Esri platform, after seeing the outstanding work they did for us.  So, when they came to us with a plan to create a compelling 3D 'Context as a Service' for Esri users, we jumped on board.  As part of this new agreement and deeper partnership, we will also be looking to improve our current offerings and develop further products with GD3D." said Kevin DeVito, Founder/CEO of CyberCity3D.
The GD3D® 3D streaming data service is the first of its kind on the ArcGIS Marketplace. By the beginning of February, the Company will begin offering over 100 cities to ArcGIS users based in the UK, USA and worldwide — priced individually as an annual subscription for organizations.
GD3D®'s core mission is to encourage users and organizations to explore 3D GIS workflows supported by their partners, Esri UK and Esri Inc. By doing this, they can embrace the amazing new capabilities of products like ArcGIS Pro, ArcGIS Online's 3D Web Scene Viewer, ArcGIS Earth and Esri CityEngine.
Elliot Hartley, Managing Director/CEO of GD3D said "We're excited to be the first 3D streaming data provider on the ArcGIS Marketplace! CyberCity3D's data is well suited to the Esri Platform for visualization and analysis.  Our 3D service is about providing a context for a client's proposals or study areas. If they require ownership of the data for more detailed analysis, we can, of course, sell them the specific areas they are interested in."
As well as offering a 3D data service, GD3D is the first to offer for sale Rule Packages for use in ArcGIS Pro and Esri CityEngine on the ArcGIS Marketplace.   It is now an official reseller of CyberCity3D data in the United Kingdom; this 3D building data is ideal for GIS use, whatever the platform. It can be delivered in a variety of different formats for use outside the geospatial context: for example, the gaming and the augmented/virtual reality industries.  We can build out into 3D wherever you have stereo aerial or satellite coverage.
"CyberCity3D data is balanced nicely between simple clean and light geometries while maintaining incredible detail.   This makes it perfect for a range of uses from 3D analysis and geospatial visualization to 3D web mapping" said Nicholas Duggan, Principal GeoSpatial Specialist at GD3D.