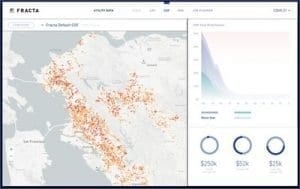 US:  Fracta, a market leader in applying Machine Learning to assessing aging water infrastructure, has announced a partnership with Esri. 
Fracta and Esri will provide municipal and investor-owned water utilities a solution that visualizes and assesses the Likelihood of Failure, Consequence of Failure, and Business Risk Exposure associated with aging water distribution water mains.
The integrated software will enable these utilities to make fast, accurate and capital-efficient risk mitigation decisions about buried water main infrastructure. It will also provide an architectural framework to readily integrate with other important software applications used by water utilities for Enterprise Asset Management (EAM), Computerized Maintenance Management Systems (CMMS), and Hydraulic Modeling.
"With 90 percent of water assets being location-based and most water main pipe data stored in GIS files, the intersection of GIS and Machine Learning was inevitable for both visualization and analysis for aging infrastructure risk management," said Takashi Kato, Co-founder, President and CEO of Fracta. "Moreover, the availability of digital asset data from GIS, CMMS and EAM systems supports a fully integrated asset management solution."
Fracta is a Silver partner in the Esri Partner Network. The Esri Partner Network is a rich ecosystem of organizations worldwide that develop and deliver cutting-edge GIS solutions and services based on Esri technology. The global program is designed to reward partners for their commitment to Esri and meeting real-world customer needs.
"The Fracta-Esri partnership brings together two world-class, best of breed technologies to deliver fast and accurate data-driven condition assessment for the water industry. As a fully integrated technology partner, Fracta is now also connected to the entire Esri water ecosystem," stated David Wachal, Director – Esri Global Water Practice.