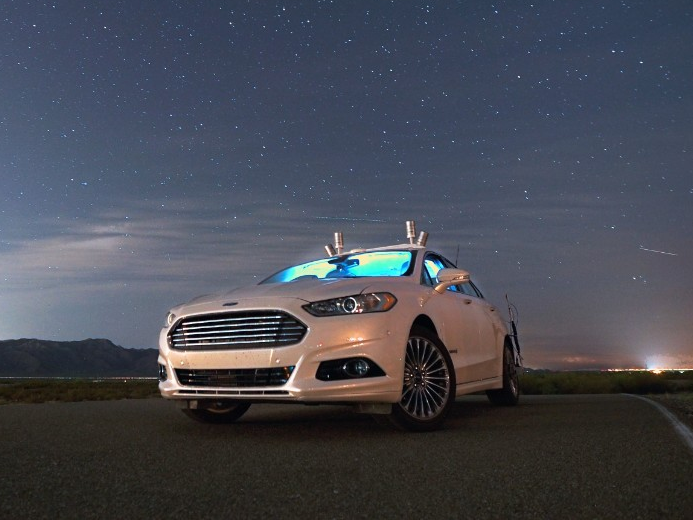 US: Ford recently took a test drive of its Fusion Hybrid autonomous research vehicle, which uses LiDAR sensors to navigate in the dark. Despite it [car] having the headlights, the vehicle did not require using them. According to Ford, the car sensors are reliable enough that it worked even in the pitch black of Ford's Arizona Proving ground. The company adds, that the car's LiDAR system, and its virtual driver software can steer "flawlessly around winding roads."
Equipped with sensors like radar, cameras and LiDAR, the vehicle assures a smooth functioning on the roads. The test marks a huge success, as Ford was quick to point out a National Highway Traffic Safety Administration statistic finding the passenger vehicle occupant fatality rate during nighttime hours to be about three times higher than that of daytime rates.
"Thanks to LiDAR, the test cars aren't reliant on the sun shining, nor cameras detecting painted white lines on the asphalt," Jim McBride, Ford's technical leader for autonomous vehicles, said in a company press release statement Monday. "In fact, LiDAR allows autonomous cars to drive just as well in the dark as they do in the light of day."
So, how did Ford get the job done? Its research vehicle used high-resolution 3D maps and LiDAR pulses to pinpoint itself on the maps in real-time. During the test, Ford engineers wore night-vision goggles, monitoring the Fusion's path via interior and exterior views, while its LiDAR sensors shot out 2.8 laser pulses a second.
"Inside the car, I could feel it moving, but when I looked out the window, I only saw darkness," Wayne Williams, a research scientist and engineer with Ford, said. "As I rode in the back seat, I was following the car's progression in real time using computer monitoring. Sure enough, it stayed precisely on track along those winding roads."
As announced during the Consumer Electronics Show (CES) 2016 in Las Vegas this past January, Ford is tripling its autonomous vehicle testing this year, aiming to put nearly 30 self-driving Fusion Hybrid sedans on roads in California, Arizona and Michigan. Mark this down as a testing achievement for sure.
Source: TechTimes