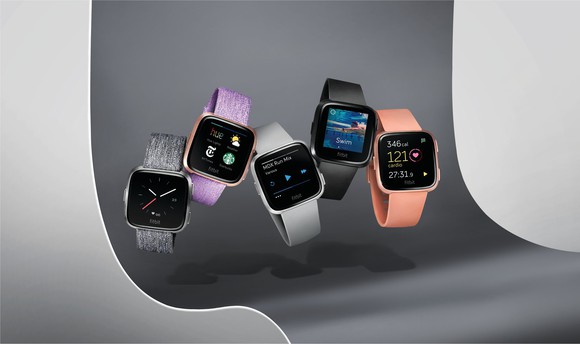 San Francisco: Fitbit reported revenue of $248 million, GAAP net loss per share of ($0.34), non-GAAP net loss per share of ($0.17), GAAP net loss of ($81) million, non-GAAP net loss of ($41) million, cash flow from operations of $10 million and free cash flow of ($2) million for its first quarter of 2018.
"We made important progress in the transformation of our business in the first quarter as we continue to adapt to the changing wearables market. Early sell through of Fitbit Versa, our first true mass appeal smartwatch, has been the best in our company's history, positioning us to expand our user base and capture greater share of the fast-growing smartwatch market," said James Park, co-founder and CEO. "We continued to deepen our relationship with our users, investing in software and services that deliver on our promise of helping people achieve better health outcomes. To this end, we closed the acquisition of Twine Health and, most recently announced a long-term collaboration with Google that will accelerate innovation in digital health and wearables."
First Quarter 2018
For the Three Months Ended
In millions, except percentages and per share amounts
March 31, 2018
April 1, 2017
GAAP Results
Revenue
$
247.9
$
298.9
Gross Margin
46.0
%
39.6
%
Net Loss
$
(80.9
)
$
(60.1
)
Net Loss Per Share
$
(0.34
)
$
(0.27
)
Non-GAAP Results
Gross Margin
47.1
%
40.0
%
Net Loss
$
(41.0
)
$
(34.4
)
Net Loss Per Share
$
(0.17
)
$
(0.15
)
Adjusted EBITDA
$
(46.2
)
$
(52.3
)
Devices Sold
2.2
3.0
For additional information regarding the non-GAAP financial measures, see "Non-GAAP Financial Measures" and "Reconciliation of GAAP to Non-GAAP Financial Measures" below.
First Quarter 2018 Financial Highlights
Sold 2.2 million wearable devices. Average selling price increased 16% year-over-year to $112 per device driven by the growing mix of smartwatch devices.
U.S. revenue represented 56% of revenue or $140 million, down 18% year-over-year.
International revenue represented 44% and declined 16% year-over-year to $108 million: EMEA revenue declined 26% to $65 million; Americas ex. U.S. revenue declined 19% to $16 million; and APAC revenue grew 33% to $28 million, all year-over-year, respectively.
New devices introduced in the past year, Fitbit IonicTM, Fitbit VersaTM

 

and Fitbit Aria 2TM

 

and accessory Fitbit Flyer, represented 34% of revenue.
GAAP gross margin was 46.0%, and non-GAAP gross margin was 47.1%. Both GAAP and non-GAAP gross margin benefited from $12.4 million in revenue recognized from the release of outstanding reserves and rebates related to Wynit, in addition to lower warranty costs.
GAAP operating expenses represented 80% of revenue, and non-GAAP operating expenses represented 70% of revenue.
First Quarter 2018 Operational Highlights
Smartwatch revenue nearly doubled to approximately 30% of revenue, on a sequential basis from the fourth quarter of 2017.
Strong Versa pre-orders, and the best sell-through sales in North America of any device in the company's history in the first week of availability.
Tracker device sales impacted by a reduction in retail channel tracker inventory. Exited the first quarter of 2018 with a relatively clean retail channel.
Leveraged Fitbit operating system investment, launched Versa with approximately 45% lower development hours than Ionic.
38% of activations came from repeat users; of the repeat users, 49% came from users who were inactive for 90 days or greater.
18,000 developers have joined the Fitbit developer community.