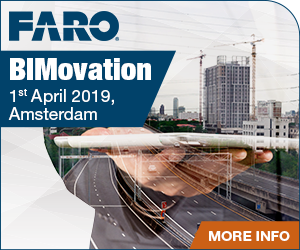 UK: FARO, the world's most trusted source for 3D measurement and imaging solutions for Construction BIM, has confirmed its presence at Geospatial World Forum 2019 as corporate sponsor. The event will take place from April 2-4, 2019 in Taets Art & Event Park, Amsterdam.
Andreas Gerster, Vice President – Global Construction BIM along with other executives and customers will address the audience at the conference.
To illustrate the multiple advantages that BIM provides to potential customers, and also to demonstrate the most up-to-date new laser scanning technology and software to existing BIM users, FARO has launched the FARO BIMovation roadshows. This year's European BIM event will take place as a pre-conference event on April 1st, 2019, at GWF's location.
"We are very happy to showcase our technologic solutions and cutting-edge technique of 3D construction planning here at the GWF. It is a great opportunity to present our capabilities in capturing, processing and applying 3D scan data throughout the building lifecycle. It is also a chance for us to meet with geospatial industry's main actors here in Amsterdam," says Andreas Gerster.
Join us on April 1st from 9.30 am to 4.30 pm at the FARO BIMovation Roadshow and discover FARO's reality capture solutions that help you to increase your efficiency in 3D data capturing and processing. With keynote speakers, the BIMovation roadshow will keep you up to date with the latest updates in digital construction.
Find out more here and pre-register: https://bimovation.faro-europe.com/
Or at the website of the event: www.geospatialworldforum.org