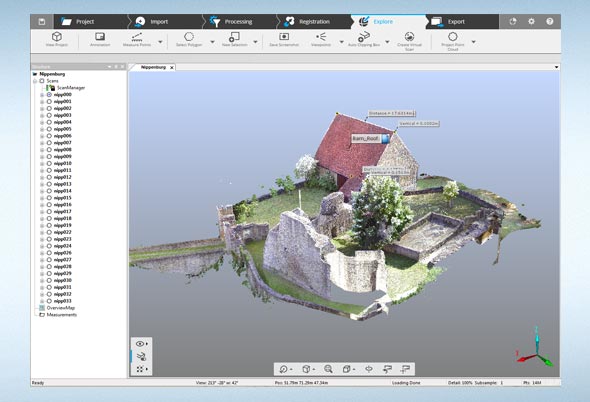 US: FARO has released its fully integrated point cloud to 3D mesh engine, FARO SCENE Version 6.1. The software will be used by BIM-CIM professionals for product design and construction. The next generation of software, SCENE Version 6.1 can efficiently process and manage 3D laser scan data.
For modeling freeform shapes such as statues, equipment, industrial components and buildings, SCENE 6.1 now offers a fully integrated meshing tool, eliminating the need for customers to utilize 3rd party software for such deliverables. Watertight 3D meshes can be calculated, viewed and exported in various standard formats, such as .STL, .OBJ, .PLY and .WRL (VRML).
Besides a streamlined workflow and reduced software costs, product designers, architects, engineers and construction specialists benefit by meshing scan data in a single software platform.  The software is ideal for users who do not own a CAD system with native point cloud support and those with 3D-Scan-to-Print applications, such as printing historical artifacts or fabricating scaled models of complex infrastructure.
In addition, the newly enhanced SCENE 6.1 user interface provides 3D scanning specialists with an integrated tool for fully automating the processing of target-based scan projects. This functionality increases overall project efficiency within a simple, straightforward user experience.
Added verification steps now allow users to confirm if a scan registration result is contextually correct, adding an additional level of confidence to their data quality. Also, newly printable registration reports in PDF-format now permit easy project documentation and monitoring.
"Scan-to-mesh workflows, target-based registration and the use of survey control has never been as intuitive and simple as with SCENE 6.1," stated Joe Arezone, FARO's Chief Commercial Officer. "Thanks to the integration of SCENE's groundbreaking workflow driven user interface, our customers can now process their scan data in an even faster, more reliable and cost-efficient way."
Overall productivity improvements in SCENE 6.1 such as faster scan processing and a new noise reduction technique reduces user effort for higher-quality and faster data evaluation. In addition, new multi-layer overview map functionality gives construction BIM-CIM professionals the ability to view scan projects by individual building levels.