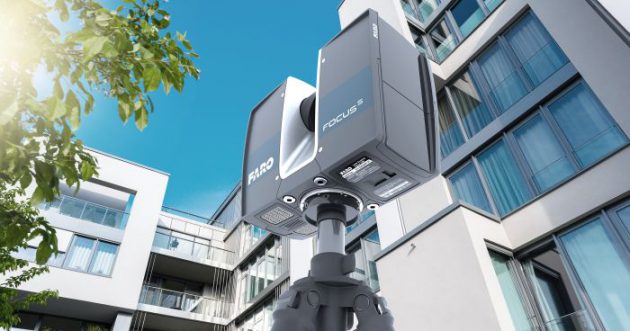 US: 3D measurement specialists FARO have announced the release of the all-new FARO FocusS Laser Scanner, the newest member of FARO's popular Focus Laser Scanner product line for rapid capture of 3D point clouds.
Available in both 150m and 350m ranges, the FocusS Laser Scanner is designed for surveying, construction, public safety and forensics applications. The new FocusS series is equipped with an increased feature set compared to its predecessor Focus3D X series, being more accurate, smaller and lighter, with an enlarged touchscreen, IP54 rating, and increased scanning range and a future-proof accessories bay.
The FocusS is also more accurate than its predecessors: able to achieve a ranging error of only ± 1mm. Such accuracy is crucial in certain applications such as surveying, BIM and as-built. Another critical new feature is the built-in field compensation routine for ensuring system accuracy at all times.
"Establishing a new benchmark against the highly successful Focus3D models of the past 5 years, FARO's Research & Development Team continues to set a high standard for laser scanners," stated Joe Arezone, Chief Commercial Officer of FARO.
"Equipped with highly advanced features in an ergonomic and durable design, the FocusS 150 and 350 are packed with today's most innovative features to maximise efficiencies for laser scanning professionals."
With a sealed design, the FocusS laser scanner is certified to a Class 54 IP rating, featuring safeguards against intrusions such as dirt, dust, fog and rain.
To ensure confidence in accuracy, the on-site compensation feature enables users to verify the accuracy of the FocusS before each project on-site. Users can correct deviations caused during transport, carrier mishandling or incidental contact automatically on-site and a comprehensive accuracy document can be provided for each scan project.
Completing the workflow for BIM-CIM
The new release comes just after FARO introduces PointSense and VirtuSurv 17.5, the latest instalment in 3D documentation and surveying software. PointSense 17.5 provides powerful new tools for extracting and aligning building and plant features from point cloud data inside Revit and AutoCAD.
PointSense for Revit provides customised tools for the feature extraction of building components, such as walls, windows and doors. For example, defining a scanned wall's alignment and thickness, is now as simple as two clicks, speeding up the process of delivering building information from 3D point clouds.
The PointSense family of software packages now includes: PointSense intSense for Revit, PointSense Pro for AutoCAD, PointSense Building for AutoCAD, PointSense Heritage for AutoCAD, PointSense Plant for AutoCAD and VirtuSurv, for working with highly visual laser scan data.