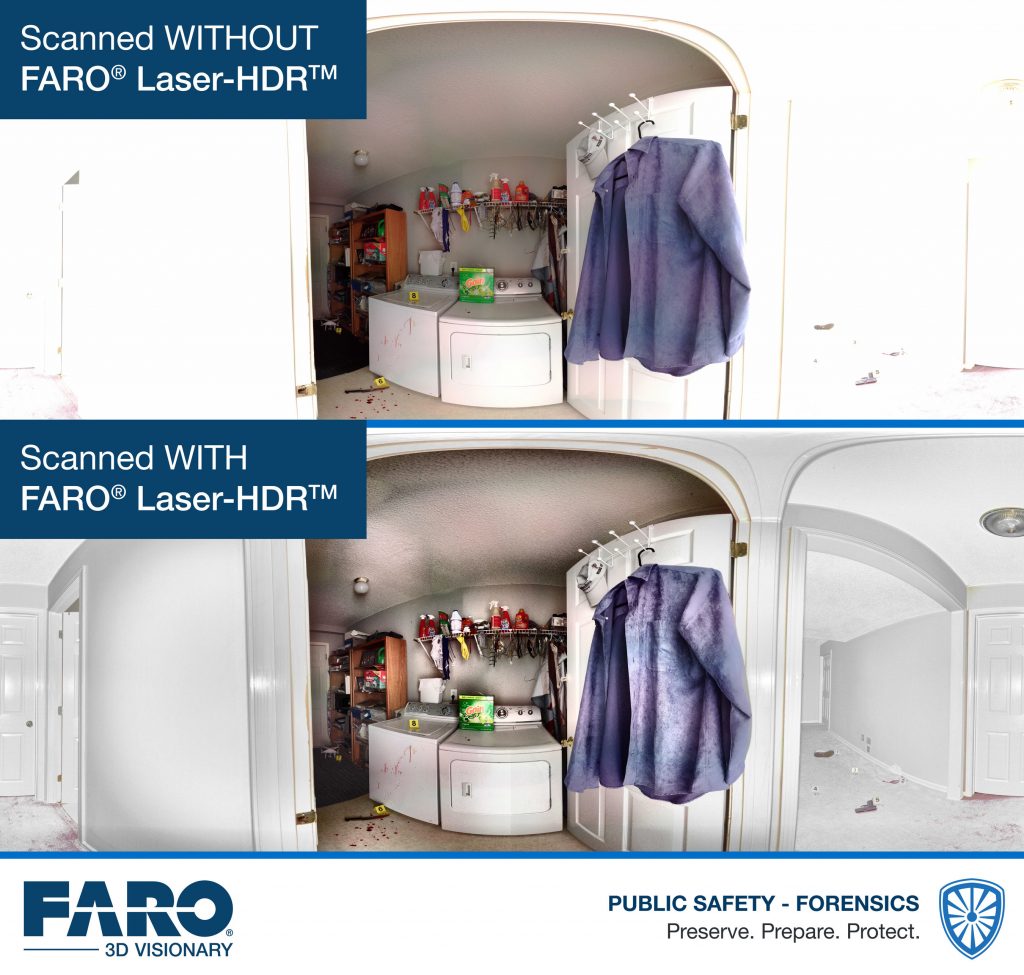 US: FARO, the world's most trusted source for 3D measurement and imaging solutions for public safety forensics, announces the release of SCENE 2018, a tightly integrated software platform specifically designed to optimize the use of the FARO Focus Laser scanner product family. This introduction represents a substantial leap forward for 3D reality data capture to enhance the quality and increase the speed of evidence capture, documentation, reconstruction, and analysis, for crime, crash, fire and security professionals.
Improved Efficiency with High Detail Scanning 

High-interest areas can now be captured in incredible detail from greater distances. FARO FocusS 150 and FocusS 350 Laser Scanner users benefit from considerable time savings on site, while capturing evidence for such items as cartridge cases, weapons and even blood in greater detail from longer distances. Users can realize up to 75% time-savings compared to other available methods of high detail evidence capture.
High Dynamic Range (HDR) Comparable Quality With 60% Less Time at the Scene

FARO Laser-HDRTM (patent pending), another FARO proprietary innovation, improves on conventional multi-exposure HDR techniques by intelligently enhancing photographs with laser intensity from the Focus Laser Scanner. Laser-HDRTMbalances color data adding vibrancy, clarity and details of the scene. Also, with no additional time required on scene and backwards compatibility with previous generations of FARO Focus Laser Scanners, Laser-HDRTM delivers a broad set of new benefits to all FARO laser scanner users.
Faster Full Color Panoramic Image Creation 

SCENE 2018 enables full camera resolution color images to be exported, independent of scan resolution. When speed and visualization are required, SCENE 2018 allows users to scan faster without loss of photographic detail.
Enhanced Virtual Reality (VR) Experience

The Virtual Reality experience is further enhanced in SCENE 2018. SCENE's VR module enables users to easily create immersive 3D environments of a crime, crash, fire, or security scene that has been scanned.  SCENE VR greatly increases the value of every customer's FARO laser scanning solution by:
Quickly converting any scene or location scanned into a fully immersive, real-worldL training environment that:
1) accelerates the learning curve, 

2) advances the breadth of expertise and knowledge of both new and experienced investigators, and 

3) reduces training costs in general,
Enabling forensics professionals to revisit and re-walk the scene to ensure all evidence has been identified, view the scene from the position and perspective of eyewitness testimonies, and evaluate the feasibility of different theories of how events unfolded, and
Providing digital scene visits to prosecutors, judges, juries, and expert witnesses just as the scene was when originally captured without having to travel to the scene.
"We are dedicated to helping public safety professionals do their jobs safer, faster, and better," stated Jeff Ruiz, Vice President – Public Safety and Forensics. "Already recognized as best-in-class, SCENE 2018 now brings new innovations that enable investigators to capture scenes more quickly with greater detail than ever before."