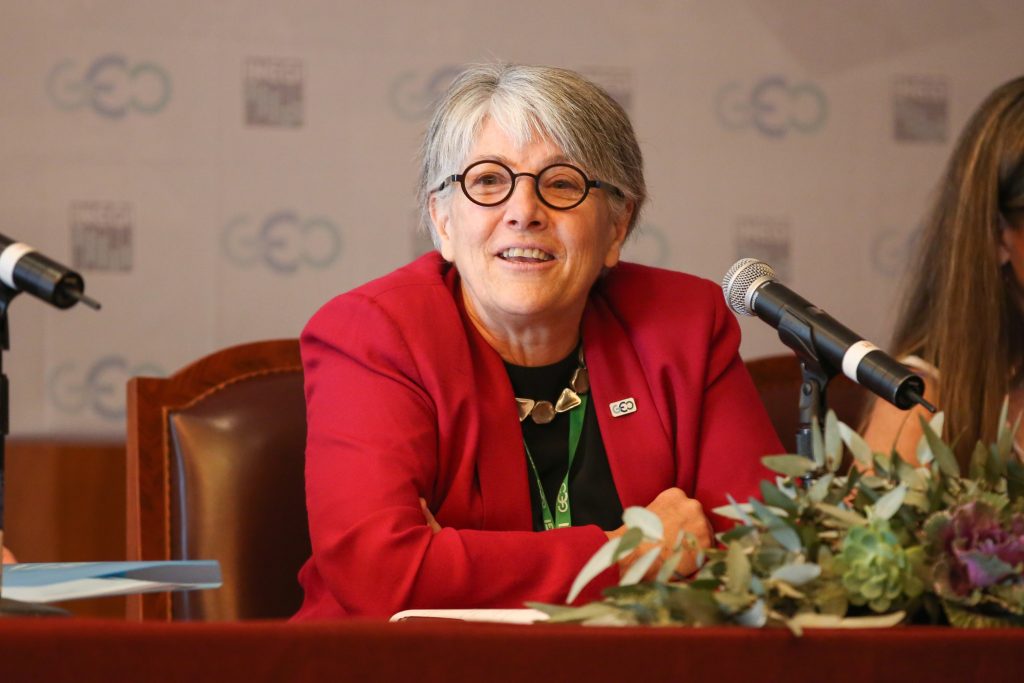 US: Barbara J. Ryan, is the former Secretariat Director of the intergovernmental Group on Earth Observations (GEO) in Geneva. Her outstanding work addressed critical issues in agriculture, biodiversity, climate change, disaster planning, energy, health and water.
Since becoming Director of GEO in 2012. Ryan has worked to integrate Earth observation systems from around the world into a single, comprehensive system that uses coordinated data to understand how environmental factors impact human life. 
In her farewell address she expressed thanks to all her colleagues saying, "As Jim and I get ready to return home, I would like to thank you for all the support you have given to the Group on Earth Observations (GEO) at large, and to me personally.  It has been, without a doubt, one of the best career experiences that I have had, and that is, in large part, due to your active engagement and support.
I am proud of what we have accomplished over these last six years including growing the membership base from 89 to 105 governments, increasing the Participating Organizations from 60 to 126, engaging more with the commercial sector, and delivering a 400-fold increase (from 1M in 2012 to 400M in 2018) of Earth observation resources in the GEOSS Platform.  GEO's growth in these areas is indicative of the increased visibility of the organization, interest in the partnership, and the value derived from working together collaboratively to leverage GEO's global convening power.
Also Read:  Barbara Ryan: A voice of scientific community in the bureaucratic world
Three strategic engagement priorities – the 2030 UN Global Agenda for Sustainable Development, the Paris Agreement for Climate, and the Sendai Framework for Disasters – adopted by Plenary in 2016, served as organizing constructs for much of our work, and also set the stage for other policy-level linkages such as the Minamata Convention and our emerging work with the UN Convention to Combat Desertification (UNCCD) on Land Degradation Neutrality.  Each year GEO Flagships, Initiatives – both global and regional — and Community Activities are striving to close the gap from observations to users, and the rapidly evolving methodologies of analysis-ready data, cloud computing, and data cubes will further help.
Much has been accomplished, yet more remains to be done. There are still many parts of the world that have not adopted broad, open data sharing policies and practices.  We are still striving to bring more global coordination to in situ observations, and there is always a demand for more capacity building and development.  I am confident that under the leadership of our next Director, Gilberto Camara, progress will be made in each of these areas and beyond.
I am most appreciative of the professional relationships and friendships that have formed with you during this time in Geneva.  I wish everyone could have the good fortune that I have had in experiencing first-hand that regardless of where one is in the world, we are more alike than different.  Thank you, everyone, and I wish each of you much success, good health and time to enjoy both."
Geospatial Hall of Fame- Barbara Ryan: A salt-of-the-earth woman