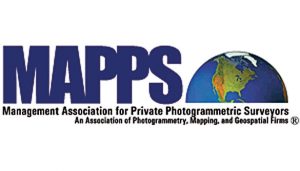 US: The association of geospatial firms, MAPPS has presented the MAPPS Public Service Award to Randy Willis, Manager for Strategic Operations – Unmanned Aircraft at the Federal Aviation Administration. Willis was recognized at the MAPPS Summer Conference in Traverse City, Michigan.
The award is a recognition of individuals in government who have made extraordinary contributions to the public and the geospatial profession in their government service roles. Established by the MAPPS Board of Directors, the award is presented to individuals who have consistently gone above and beyond the call of duty in support of MAPPS and the geospatial profession.
Willis is Air Traffic Organization Manager in the Federal Aviation Administration (FAA) Emerging Technologies Team for Strategic Operations – Unmanned Aircraft.
Previous recipients of the MAPPS Pubic Service Award are M.K. Miles, Deputy Chief of Engineering and Construction, Civil Works Directorate, in the headquarters of the U.S. Army Corps of Engineers (USACE) in Washington, DC, (now retired); Nicholas (Miki) Schmidt,  Chief of the Science and Geospatial Division for NOAA's Office for Coastal Management NOAA, Charleston, SC; and Major Clark, Assistant Chief Counsel for Procurement Policy for the Office of Advocacy, Small Business Administration, Washington, DC.
"Since 2008, Randy Willis has been the FAA unmanned aircraft systems (UAS) office liaison to MAPPS.  In that role, he has had an open mind and an open door.  He has consistently attended MAPPS meetings to listen, answer questions, and act. The voice of the aerial surveying and mapping community has been heard in FAA, policy was developed with knowledge of our community and its desire to commercially operate UAS, and regulations are now in place that will enable the private geospatial community to embrace and employ UAS in service to our clients and the public, all in large measure due to Randy Willis's dedicated public service,' said MAPPS Executive Director John Palatiello. "Randy has been influential in working with MAPPS to have our community recognized in many FAA policies, including the FAA's first "Roadmap" on UAS in 2013, he led the effort to raise the ceiling under 333′ to 400′.  Moreover, Geospatial/Aerial Surveying/Mapping is prominent in FAA's consideration of UAS policy because of Randy."