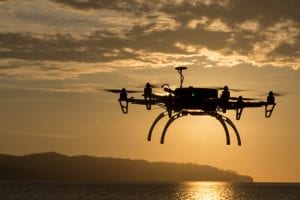 US: The Federal Aviation Administration (FAA) has proposed new rules that would allow small, unmanned drones to fly without a permit over people and even at night.
"The department is keenly aware that there are legitimate public concerns about drones, concerning safety, security and privacy," stated U.S. Transportation Secretary Elaine Chao.
According to the FAA report, requests to operate at night are "by far" the FAA's most common waiver request. The agency noted that "to date, the FAA has not received any reports of small UAS accidents operating under a night waiver."
The second major change would allow drones to fly over people without a waiver if certain conditions are met. Those conditions are designed to minimize risk to anyone on the ground, including restrictions limiting device weight to .55 pounds. Drones over .55 pounds would be similarly allowed to operate over people if they meet a set of requirements to prevent serious injury.
The FAA is also proposing allowing discretionary waivers for operations over moving vehicles, for operations over people that would not otherwise meet the standards outlined in its proposal, and for those that do not meet its anti-collision lighting requirement.