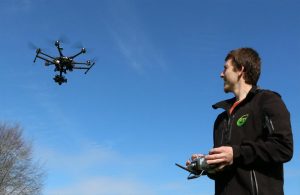 US: To minimize the risk of drones flying discreetly near the airports, the Federal Aviation Administration (FAA) has decided to expand its Pathfinder program, which seeks to "evaluate procedures and technologies designed to identify unauthorized UAS [unmanned aircraft systems] operations in and around airports."
On Monday, the FAA signed Cooperative Research and Development Agreements (CRDAs) with Gryphon Sensors, Liteye Systems Inc. and Sensofusion. The FAA will evaluate procedures and technologies designed to identify unauthorized UAS operations in and around airports.
This research effort is a part of the FAA's Pathfinder Initiative that will address one of the significant challenges to safe integration of UAS into the nation's airspace.
"Sometimes people fly drones in an unsafe manner," said Marke "Hoot" Gibson, FAA Senior Advisor on UAS Integration. "Government and industry share responsibility for keeping the skies safe, and we're pleased these three companies have taken on this important challenge."
"Gryphon Sensors, LLC is excited to collaborate with the FAA on utilizing technologies that detect, track and identify errant or hostile UAS in and around our nation's airports and sensitive areas.  Detecting these threats is challenging because most of them are very small, fly low to the ground and can be pre-programed to fly autonomously," said Gryphon Sensors President Tony Albanese.
"Our AUDS team is very excited to join the FAA's efforts to counter rogue UAVs," stated Thomas Scott, President of Liteye Systems. He added, "As the legitimate use of unmanned vehicles becomes more prevalent in many industries, unfortunately this large number of aircraft also makes them readily available for illicit use. With the right technologies we can assist the UAV operator to conduct his mission, while protecting against those who wish us harm."
Sensofusion, Inc. CEO Tuomas Rasila said, "We first developed the technology to detect, locate, track, and gain control over UAS three years ago as a military project and operated it with three European armies under NATO. Fast forward to the present time, and AIRFENCE is now protecting various customer sites in Europe, including prisons, high profile government buildings, police, and military sites. Since the technology is software based, it improves with over-the-air updates, ensuring that we are always ahead of the commercial UAS market."
The companies' prototype UAS sensor detection systems will be evaluated at airports selected by the FAA. The agency and its federal government partners – particularly the Department of Homeland Security (DHS) – will work with the companies to study how effective their respective technologies are, while ensuring they do not interfere with the safety and security of normal airport operations.
Source: FAA