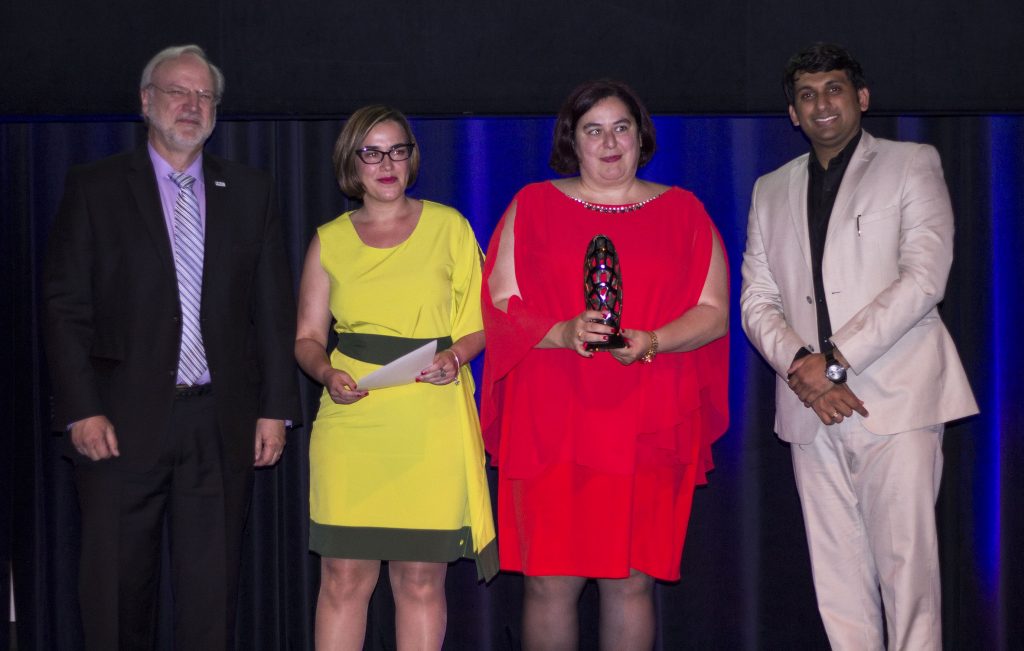 The Netherlands – Extremadura Didactic Spatial Data Infrastructure project from Spain has won the Geospatial World Excellence Award.
The award was received at Geospatial World Forum 2016 by Mrs Begoña García Bernal, Consejera de Medio Ambiente y Rural, Políticas Agrarias y Territorio, Junta de Extremadura.
About the project
Extremadura didactic SDI aims to bring the spatial data information of the region of Extremadura (Spain) closer to children and teenagers by using three friendly applications:
SDI_Explore: Through a map of Extremadura divided in nineteen characteristic areas, one special character per zone will show us each one of them. These special characters have an important relation with the region of Extremadura, since they are historic celebrities, native animals or cultural characters of this Region. The user can go round the area and click in different villages and towns where the characters will tell us about different aspects of the history, culture, geography, art, etc. of each place, sometimes even using pictures, too. The scheme used in every area includes one simple game related to the area, and also one link to the Spatial Data Viewer with a visible specific layer containing characteristic information from that area.
SDI_Viewer: In this application young users can view layers as Web Map Services (WMS) and they can even do different things with each one of them by using different actions: turn on/off, overlay, apply transparency or request additional information. In addition, they can use some other basic tools: zoom, pan, move, search a place and focus it, draw over the map and save the map, too. The thematic layers show us the geography, history, architecture, population data, economic activities, fauna, flora, etc. of the region of Extremadura by using colors and forms aesthetic and adapted to teenagers and children.
SDI_Quiz: This application is divided in three age levels: 6-8, 9-12 and 13-16. Each group has questions about the region of Extremadura which have been specially chosen to be instructive. Young users can find more information inside Explore SDI to answer these questions. This application was used as the means to promote the Didactic SDI of Extremadura through a contest among youth from schools and high schools in Extremadura.
Extremadura didactic SDI platform is connected to Extremadura SDI by a link in this geospatial site. Moreover, many of the official layers from Extremadura SDI are used to feed the SDI_Viewer application on Extremadura didactic SDI.