Paris: Collaboration and partnership was the key for a sustainable growth of the Earth Observation industry. That was the message from the two-day 8th Summit on Earth Observation Business in Paris on September 15 and 16. The Summit was part of Euroconsult's week-long World Satellite Business Event from September 12 to 16.
Another interesting point that came out of the discussion was space industry needed to stop using the space language and make their talks more user-friendly to make the technology more approachable to newer sectors.
Setting the tone for the Summit, Pacôme Révillo, CEO of Euroconsult, opened the inaugural session asking the big players on what their views on the priorities in maintaining their business growth. In an intense discussion that followed, big satellite companies like DigitalGlobe, Airbus Defence and Space and MDA all agreed that gaining new customers while retaining the old ones was the priority. For this, companies needed to develop deeper relationship with clients, develop newer and more sophisticated services and continue to curate intelligence from imageries.
Airbus Defence and Space said while there is a big market in value added services, data was still by far in most demand. Dr. Bernhard Brenner, Senior Vice President, Head of GEO Intelligence, Airbus Defence and Space, also announced that the company will launch four very high resolution satellites by 2021. He, however, refused to give any further details.
DigitalGlobe, which was represented Tony Frazier, Senior Vice President & General Manager, Services, instead of CEO Jeffery Tarr because of the impending launch of its prestigious WorldView-4 that evening, underlined the massive growth potential from services and operations in Cloud. Frazier also said the company is upbeat on WorldView-4 launch since it has seen tremendous potential in data in that category (30cm resolution).
David Belton, General Manager, MDA Geospatial Services, highlighted that the company was looking for new markets for its technologies. It was also looking for partners to develop new platforms and datasets and improve its delivery. He also added that discussions with the US government for relaxation of the data policy were on and some announcements are expected by the year end.
E-GEOS CEO Massimo Comparini talked about the changes and reorganization in the company in the last two years and charted out the new growth path. He added that a lot of venture capital funds are coming into the EO sector and partnership was the key.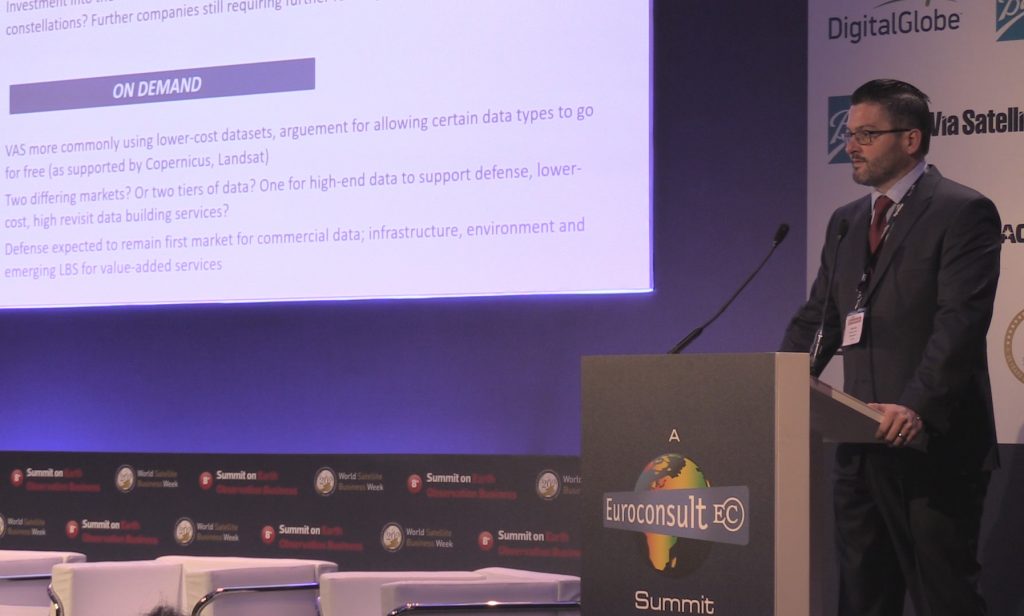 Earlier, Euroconsult Managing Director Adam Keith opened the summit with his presentation of the company's report ― 9th edition of Euroconsult's report, Satellite-Based Earth Observation: Market Prospects to 2025. Quoting from the report, Keith said civil government interest in satellite launched in 2015 topped $10 billion for the first time. There was also substantial increase in investment from emerging markets. As many 163 satellites (>50kg) were launched for civil and commercial EO (excluding meteorology) over 2006-2015. These were launched for entities in 35 countries and generated $18.4 billion in manufacturing market revenues. Most of these satellites were launched by government operators to support policy objectives spanning climate change, sustainable development and industrial support. In addition, EO remains the primary application for emerging space programs; growing funding into these programs is a key driver for overall investment growth. In 2015 civil government investment topped $10 billion for the first time.