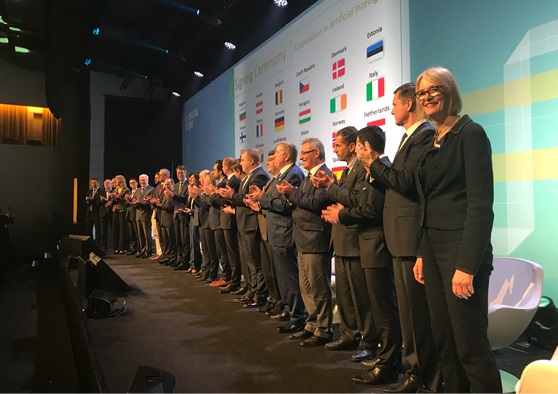 Belgium: 25 European countries have signed a declaration of cooperation on Artificial Intelligence (AI).
The countries have agreed to work together on the most crucial issues raised by AI, from ensuring Europe's competitiveness in the research and deployment of AI, to dealing with social, economic, ethical and legal questions.
The declaration builds further on the achievements and investments of the European research and business community in AI. AI is already used by citizens daily and facilitates both their personal and professional lives. It can also solve key societal challenges, from sustainable healthcare to climate change and from cybersecurity to sustainable migration. Clearly, the technology is becoming a key driver for economic growth through the digitisation of industry and for society as a whole.
The emergence of AI also brings challenges which need to be addressed. An anticipatory approach is needed to deal with AI's transformation of the labour market. It is necessary to modernise Europe's education and training systems, including upskilling and reskilling European citizens. New legal and ethical questions should also be considered. An environment of trust and accountability around the development and use of AI is needed to fully profit from the opportunities it brings.
Building on today's commitments, the Commission will present a Communication on AI in the coming weeks.
List of countries that signed the declaration: Austria, Belgium, Bulgaria, Czech Republic, Denmark, Estonia, Finland, France, Germany, Hungary, Ireland, Italy, Latvia, Lithuania, Luxembourg, Malta, Netherlands, Poland, Portugal, Slovakia, Slovenia, Spain, Sweden, UK, Norway.