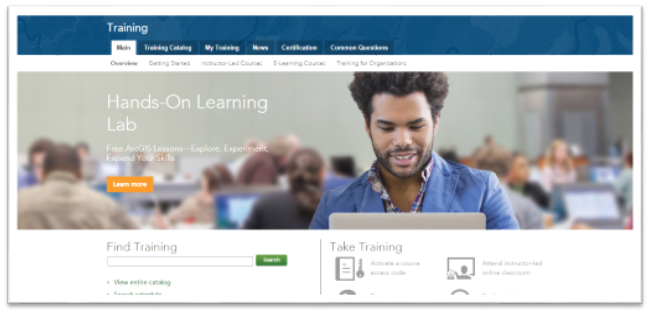 US: To offer its users the next-generation of GIS focused e-learning, Esri will release its Esri Training in August. The website that is currently available in its beta version, has been designed to offer a fresh user experience, complete with an open learning model, more flexible courses, and contemporary learning incentives.
"We are evolving our training offerings to reflect the diverse ways individuals like to learn," commented Pete Wilkinson, Head of Customer Success, Esri UK. "Creating a modern e-learning experience that complements our instructor-led courses allows people to learn about the ArcGIS platform using their preferred learning method, or by adopting a blended learning approach."
Esri's new e-learning site will provide high-quality content in an engaging and contemporary way. The website enables GIS practitioners and managers to design, undertake and track learning activity though Personal Learning Plans and users will be able to schedule e-learning alongside traditional classroom based courses, to ensure individuals and organisations make the most from their investment in the ArcGIS Platform.
The new e-learning offering from Esri will enable existing GIS professionals and new users of ArcGIS to move freely from course to course, learning continuously anytime, anywhere. This new learning freedom will allow people to develop new skills as and when required, ensuring their skills are current and relevant to the role they fulfil within their organisations. It will also enable organisations to more readily explore, discover and upskill in areas of the ArcGIS Platform they are not yet familiar with.