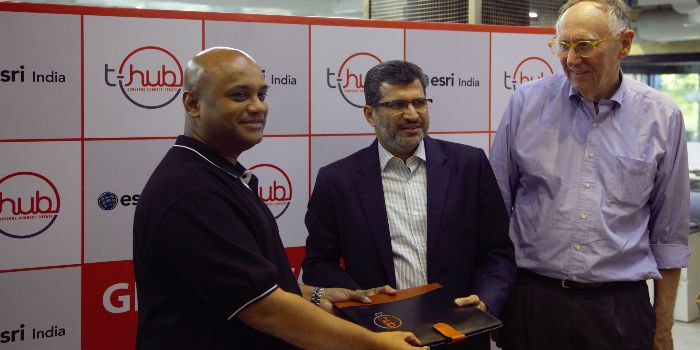 Hyderabad, India – T-Hub, India's fastest growing start-up engine, on Monday launched the 'GIS Innovation Hub' (GIH) for the start-ups.
The GIH is powered by Esri India, the country's leading Geographic Information System (GIS) software and solutions provider. The facility was inaugurated by Jack Dangermond, Co-founder, President and CEO of Esri Inc.
The GIH will be a platform for start-ups within T-Hub ecosystem, to leverage the power of GIS through Esri India, the company said in a statement.
As a part of the partnership, Esri India will be inducting the start-ups into a three-year program where they would get free access to Esri's ArcGIS, a cloud-based mapping platform, software development tools and ready-to-use content.
Additionally, Esri India will also provide training and technical support to make the adoption of GIS technology easy for the start-ups.
"Hyderabad start-ups can leverage new dimensions of data and visualisation capabilities to create breakthrough advancements and deliver truly innovative products, said Esri India President Agendra Kumar.
"This will add a valuable platform for our start-ups, which will enable them to function better and scale up to the next level faster. Studies have shown that on an average, implementation of GIS technology can result in saving anywhere between 10 to 30 pct in operational expenses, through reduction in fuel use and staff time, improved customer service, and more efficient scheduling," said Srinivas Kollipara, Founder and COO, T-Hub.