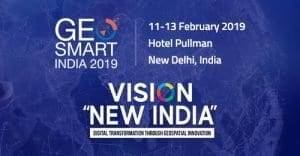 India: Geospatial Media and Communications announced 'ESRI', as a Silver Sponsor at GeoSmart India 2019 scheduled from 11th-13th February'19 at Hotel Pullman, New Delhi. ESRI with its tagline "Science of Where" justifies the advent of the digital transformation and hence stand on the edge of a new technological frontier with their value uprooted in purpose and a mission to inspire positive change.
GeoSmart India with its futuristic themes is considered to be the most prominent stakeholder event of the Indian geospatial ecosystem. Moreover, it demonstrates the collective and shared vision of the Indian geospatial community. GeoSmart India uses geospatial technologies as a backbone to set up systems that are efficient, comprehensive and inclusive. This will give rise to a digital world where efficient and smart systems will enable a clean, healthy, educated, complete, able and secure India.
"I am honored to have ESRI as a Silver Sponsor for GeoSmart India 2019 as they inspire us and drives us by offering the most high-powered, high-performance mapping and analytics capabilities in the world and ESRI's participation will add a greater value to GeoSmart India 2019 working towards a vision of creating "New India", said Shreya Chandola, Product Manager, Outreach and Business Development.