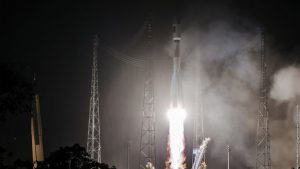 France: After the Tuesday's double launch, ESA has put 14 Galileo navigation satellites in the Earth orbit. This seventh Galileo launch went by the book: the first three Soyuz stages placed the satellites safely into low orbit, after which their Fregat upper stage hauled them the rest of the way into their target medium-altitude orbit.
The twin Galileos were deployed into orbit close to 23 522 km altitude, at 3 hours and 48 minutes after liftoff. The coming days will see a careful sequence of orbital fine-tuning to bring them to their final working orbit, followed by a testing phase so that they can join the working constellation later this year.
"Today's textbook launch has added two more satellites to what has become Europe's largest satellite constellation," commented Jan Woerner, Director General of ESA.
"It was made possible by the fact that European industry's manufacturing and testing of Galileo satellites has achieved a steady tempo."
"Today's launch brings Europe's Galileo constellation halfway to completion, in terms of numbers," remarked Paul Verhoef, ESA's Director of the Galileo Programme and Navigation-related Activities.
"It is also significant as Galileo's last flight by Soyuz this year before the first launch using a customised Ariane 5 to carry four rather than two satellites each time – which is set to occur this autumn.
"Meanwhile, hard work is proceeding behind the scenes to ensure the worldwide Galileo system, including its far-flung ground stations, is reliable, secure and robust for the start of operational services to users."
Source: ESA