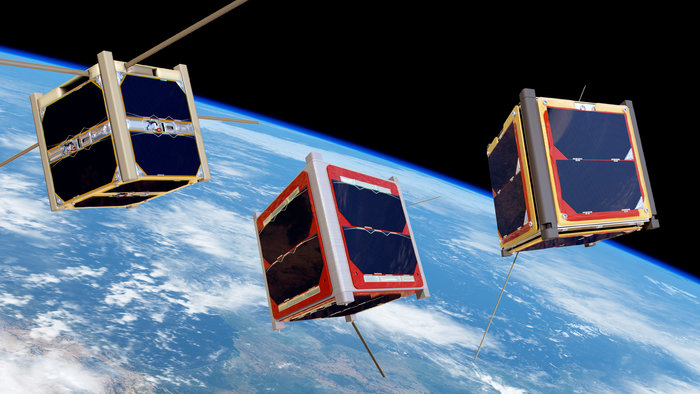 French Guiana: ESA launched three CubeSats built by three teams of students on Monday. The satellites were released into space as part of ESA's Education Office 'Fly Your Satellite!' programme. The CubeSats will be working autonomously in the first hour of flight to stabilise their motion, and perform an internal health check, and deploy their antennae. Then they will establish communication with Earth.
For the teams who programmed the satellites to do this, it is the most difficult time. There is nothing they can do except trust their satellites, just like parents waiting at the gate to see how their children managed on their first day of school.
"During testing, if something went wrong we could fix it. Now, like in all space missions, we have to count on the work done so far on the ground," says Piero Galeone, Head of Tertiary Education at ESA and Fly Your Satellite! programme manager.
According to Galeone, the painstaking preparations to make sure that something doesn't go wrong have been a key lesson for the students. During the test phase, they were taught not to hurry. He says, "Just take the time you need to perform the action" was one of the key lessons for the students.
The CubeSats, which each measure just 10x10x11cm, hitched a ride on Soyuz flight VS14 that was carrying the primary payload of Sentinel-1B. The launch took place on 25 April at 23:02:13 CEST (21:02:13 GMT). Everything went according to plan, and Sentinel-1B was placed into its orbit 23 minutes and 35 seconds after launch.
The CubeSats are positioned in an elliptical Low Earth Orbit (LEO), swinging from about 665 km to 453 km and back again. The final orbital parameters will be confirmed in the next few hours. Their orbit is very inclined over the equator, taking them over the poles of the planet.
This orbit puts them periodically in good view of ground stations. From this orbit they will re-enter Earth's atmosphere in approximately 8 years, preventing they become space junk after their missions are over.
Source: ESA