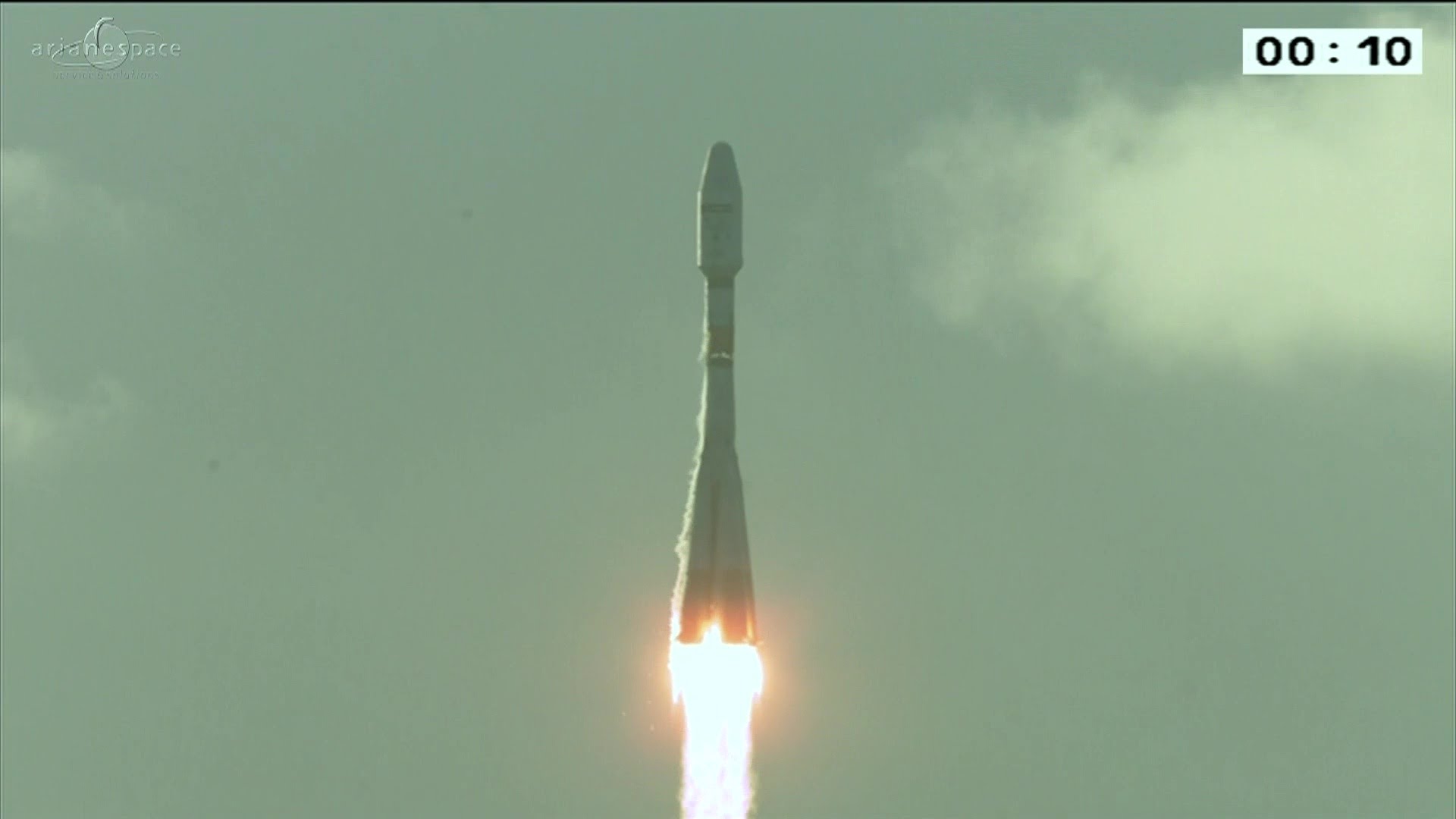 French Guiana: After being delayed for three days continuously, the Sentinel-1B satellite was launched on Soyuz flight VS14 from Europe's Spaceport in Kourou, French Guiana, on Monday at 23:02 CEST (21:02 GMT). The launch was originally planned for 22 April but weather conditions and a technical issue delayed liftoff.
Now that Sentinel-1B has joined the Sentinel-1A in orbit, the satellites will deliver information for numerous services, including monitoring ice in polar seas to tracking land subsidence, and for responding to disasters such as floods.
"The launch of Sentinel-1B marks another important milestone as this is the first constellation we have realised for Copernicus," said ESA's Director General Jan Woerner.
"Orbiting 180° apart, the two satellites optimise coverage and data delivery for services that are making a step change in the way our environment is managed."
Both satellites carry an advanced radar that images Earth's surface through cloud and rain regardless of whether it is day or night. Sentinel-1 is the first mission for Europe's Copernicus environment monitoring programme. It carries an advanced radar to provide all-weather, day-and-night images of Earth's surface.
Now as the aircraft has launched, a team of controllers at ESA's operations centre in Germany will ensure that everything is working correctly. The team will also commission the satellite for operations.
Volker Liebig, ESA's Director of Earth Observation Programmes, said, "We have seen some marvellous results from Sentinel-1A. Only two weeks ago, for example, it captured images of large icebergs breaking away from Antarctica's Nansen ice shelf
"Given that Antarctica is heading into winter now and daylight hours are getting shorter, radar images are vital to see what changes are taking place. With Sentinel-1B in orbit we will receive double the amount of data and achieve global coverage in six days."
"This is the fourth satellite that we've launched for Copernicus in just two years and this launch is certainly a special moment because it completes the Sentinel-1 constellation."
Source: ESA