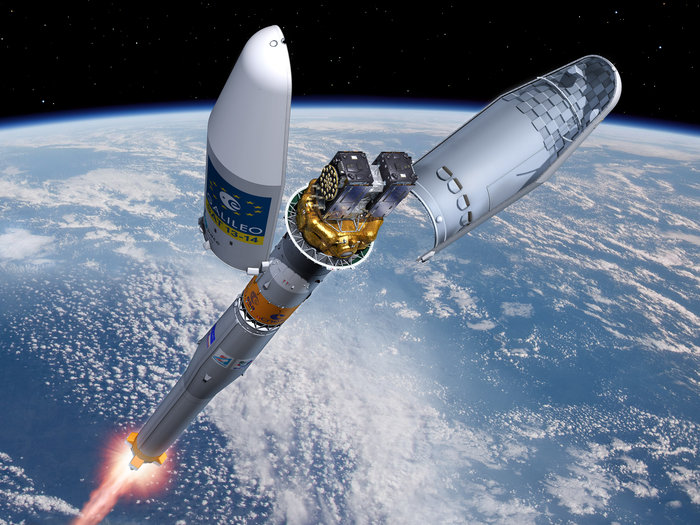 France: A team of European mission control experts will be watching closely next week when two Galileo satellites are boosted into space, ready to shepherd the craft through the first critical days in orbit. Galileo satellites 13 and 14 are scheduled to lift off at 08:48 GMT on 24 May from Europe's Spaceport in French Guiana on top of an Arianespace Soyuz rocket.
This will be the seventh Galileo launch, and it will bring the number of satellites in space to 14. A total of 24 operational satellites and spares are planned in the Galileo navigation constellation. The fiery ascent will last just over nine minutes, after which the Fregat upper stage will fire twice to place the satellites into their release orbit.
About 3 hours and 48 minutes into flight, they will separate, marking the end of the rocket's mission and the start of the critical early days for the pair. It will then be up to a combined team from ESA and France's CNES space agency to make contact, establish control and then see the craft through their initial, critical, activities.
For this launch, they will work from a control room in ESOC, ESA's control centre in Darmstadt, Germany. Within the combined team, each position is paired with a counterpart from the other agency to provide three mixed shifts around the clock for the first nine days. The team has conducted all the Galileo early operations alternately from ESOC or from the CNES control centre in Toulouse, France.
"Once the satellites separate into free flight, the solar wings will deploy automatically, we'll be waiting very anxiously for receipt of the first signals via the tracking station at Dongara, Australia, and Kerguelen Island, in the Indian Ocean," says Liviu Stefanov, lead flight director from ESA.
"Once we have contact, we'll begin health checks, and we'll be particularly interested in verifying the satellite attitudes, communication status, that power is flowing from the array and that no part of either satellite is too warm," says Christelle Crozat, the lead Spacecraft Operations Manager from ESA.
Source: ESA