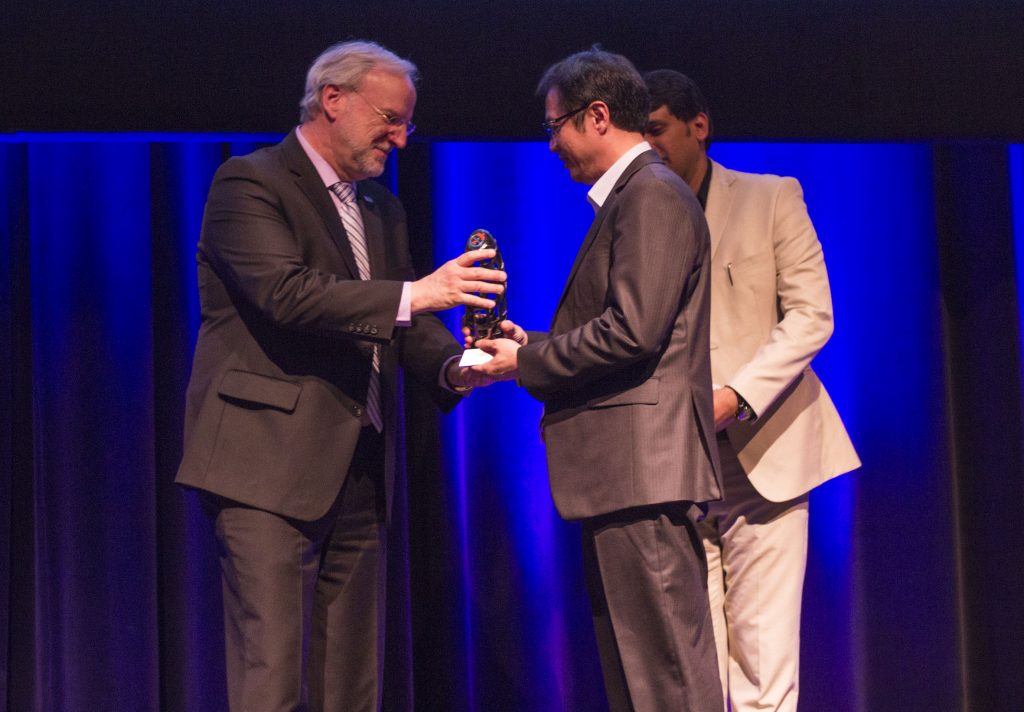 The Netherlands – Breathe Easy & Live Better – Environment Info Push App from Taiwan by Environmental Protection Administration of Executive Yuan, Taiwan (R.O.C.) and  Environmental Management Consultants Technologies Inc. has won the Geospatial Excellence Award under the Geospatial Apps segment. The award was presented at Geospatial World Forum 2016 held in Rotterdam.
About the Project

To face the serious environmental pollution issue, the highest governmental sector, Environmental Protection Administration of Executive Yuan (EPA), Taiwan has devoted in providing various public services and integrated information around the country for a better living environment. Environment Info Push App was therefore proposed to serve the public with air quality indices, weather info and outdoor activity suggestion.
As EPA is the main and the highest government sector for environment protection that has the authority to access data to nationwide observation stations, all they need was to build a suitable platform for the public to display all the information within one user-friendly and easy-to-use app on Android and iOS devices. Environmental Management Consultants Technologies Inc. (EMCT) was authorized to develop Environment Info Push App due to its rich experience in providing clients with professional environment-related geospatial solutions.
The app perfectly integrates 8 different indices to show the real-time environment info, such as PM2.5, Pollutants Standard Index (PSI), Ultraviolet Index (UVI), River Pollution Index (RPI), weather forecast and etc., and displays in gauge and different colors, so that users can understand how serious it is, without knowing the complicated definition of those indices. The newly added Continuous Emission Monitoring Systems observation data helps users to watch the particular pollutant sources, and avoid visiting specific polluted areas.
Users can also customize favorite spots and define their own alert standards to send push info. When any of the indices is over the self-defined or suggested standard, users will receive push notification immediately. In addition, the app also provides Map and List, two different ways to overview all the info by administrative zones. Meanwhile, latest EPA news and other emergency alerts, like tsunami, typhoon, mudslide, flood, earthquake, heavy rain and sandstorm, will be sent to users' devices to assist the public plan earlier.
For people who are easily have allergic reaction, Environment Info Push App gives a hand in providing useful outdoor suggestion and forecast. Historical trend chart is also provided to quickly understand the past, so that they can have a reliable info resource within one app.
Unlike the most projects hold by government sectors usually get negative feedbacks, the public is highly satisfied with Environment Info Push App because of its user-friendly interface and useful outdoor activity tips. The app won 4.4 rating by thousand users, and has been installed on almost 100,000 devices.