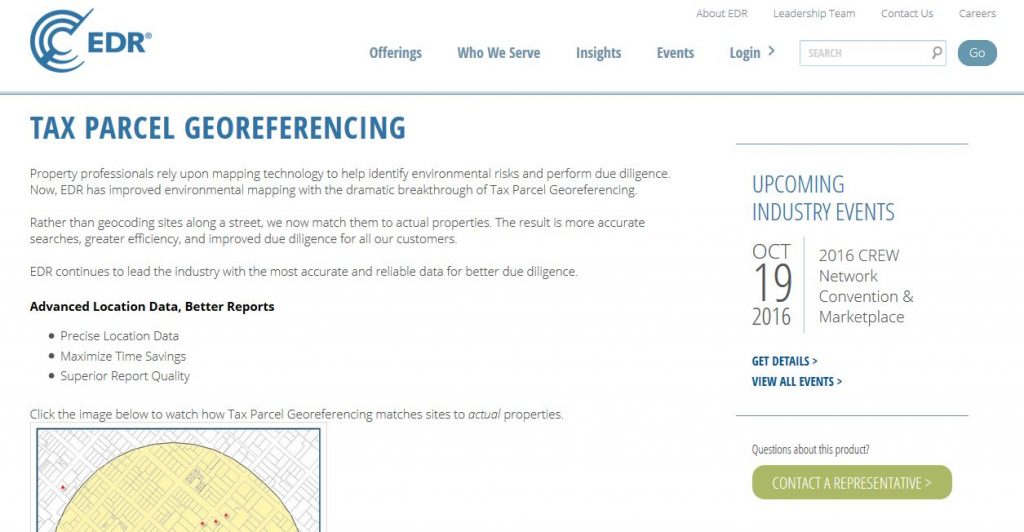 US: Property risk information and technology provider EDR has released Tax Parcel Georeferencing in all of its mapping products, which increases the accuracy and precision of mapping environmental information across the United States.
Property professionals rely upon mapping technology to help identify environmental risks and perform due diligence. With this launch, EDR has improved environmental mapping with the breakthrough of Tax Parcel Georeferencing. Rather than geocoding sites along streets, EDR has developed a methodology to match environmental records with actual properties. The result is more accurate searches, greater efficiency, and improved due diligence.
Customers have already noted significant benefits. According to Charles Mulligan, a managing director in CBRE's Assessment & Consulting Services Division, "As an early adopter, CBRE immediately found that Tax Parcel Georeferencing improves the accuracy of data and brings new efficiencies to the review process."
Tax maps, which contain key ownership and parcel data critical to due diligence, have long been valuable to property professionals. Earlier this year, EDR incorporated an interactive tax parcel layer within its ordering system and EDR Lightbox, an application used by environmental professionals to conduct research and analysis.
EDR's release of Tax Parcel Georeferencing amplifies the value of tax maps by connecting millions of environmental records to actual properties. This results in greater accuracy within all EDR mapping reports and applications. With more accurate reports, property professionals save time and gain a more complete understanding of their subject property and its surroundings. This will empower property professionals to do their best work faster.
According to EDR's CEO Chris Aronson, "The improved clarity and precision in this release are stunning" He continued, "Tax Parcel Georeferencing not only helps environmental consultants work more efficiently and deliver higher quality reports, but the increased report quality moves downstream to property stakeholders who benefit from better due diligence."
Joe Burstiner, an EDR managing director responsible for these recent updates, noted, "We will continue to lead the industry in data accuracy and reliability with consistent enhancements related to mapping technology." He continued, "These improvements are fueling efficiency for hundreds of thousands of commercial real estate transactions each year."