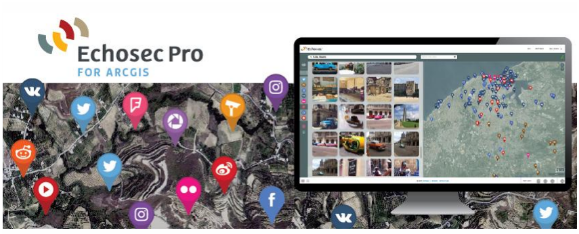 US: Echosec Systems launched the long awaited Echosec Pro for ArcGIS Online yesterday at the Esri UC, San Diego. An application that is developed to enable rapid search, Echosec Pro retrieves and import real-time social media posts into ArcGIS.
The information from Echosec shows real time social data and includes all publicly available posts, pictures, videos, audio, and check-in locations. Echosec Pro for ArcGIS is available immediately to Esri users via the ArcGIS Online Marketplace.
The Echosec team will be demonstrating their industry leading social media search solution this week at the 2016 International Esri User Conference (#esriuc) in the Esri Startup Partner Pavilion, booth Z6.
Echosec's integration into ArcGIS Online allows for visualization and additional data sources alongside the social media data from Echosec. This means that Echosec and ArcGIS users are able to display their feature and tile layers within Echosec, query for social media related to their layers and data then export the social media search results directly to their ArcGIS Online account as a Feature Layer. This integration between Echosec and ArcGIS Online allows Esri users to inject another dimension to their existing workflow.