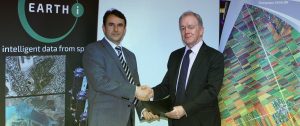 UK:
UK-based image and
data
services distributor, Earth-i has signed a Memorandum of Understanding (MoU) with Telespazio VEGA. Through this MoU, both of these companies can ask to provide each other's specialist products and services for their respective customers.
In the case of Earth-i, this will permit them to provide new and existing customers with advanced synthetic aperture radar (SAR) data from the COSMO-SkyMed satellite constellation alongside their existing optical data.
Telespazio VEGA, accessing the four satellites of the COSMO-SkyMed constellation, and Earth-i with the DMC3 / TripleSat constellation, will collectively be able to offer seven highly advanced and complementary imaging resources with multiple imaging opportunities each day.
Richard Blain, CEO of Earth-i, at this occasion commented that "The agreement signed by both parties demonstrates a collaborative relationship between two geospatial companies who can now offer their customers the best of both worlds. By combining SAR and optical data we can provide ever more detailed metrics, analytics and information extraction. All of us look forward to working with our friends at Telespazio VEGA to find new and innovative applications and capabilities from our shared resources."
The high frequency of the COSMO-SkyMed constellation makes it ideal for monitoring applications from wide area maritime surveillance and vessel detection to regional forestry and agricultural compliance applications, near real time flood mapping down to site specific sub-millimetre surface deformation monitoring of individual buildings, roads and bridges.
Source: Earthi