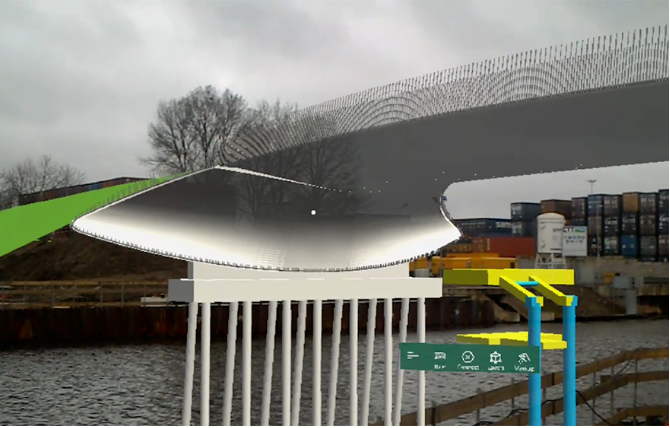 The Netherlands: Dutch construction and engineering firm Dura Vermeer has developed a mixed reality helmet that exploits motion-tracking technology used in bodysuits worn by actors in the production of Hollywood animated films to improve their accuracy.
The firm worked with augmented reality software developer Recreate to develop the EBMR (Engineering Building Mixed Reality) helmet, which is a regular construction helmet fitted with a Microsoft HoloLens headset.
The system is fitted with a satellite receiver that identifies the user's location on site and an Xsens sensor that tracks their physical orientation and heading information. This enables a user to visualise detailed architectural plans, including building structure and components as holograms overlaid onto their regular view of a building site. Holograms are anchored into position, even when the user walks around a project.
Dura Vermeer trialled EBMR during construction of a major bridge in The Netherlands, resulting in time and quality benefits. André van der Vegt, regional manager for the Eastern Netherlands at Dura Vermeer, told BIM+: "We wanted to give our workers, site managers and project leaders an experience of what they had to build so they could see complex details, potential conflicts and so deliver a better quality project.
"Users can walk through the model, see underground cables and the height and location of the bridge, which helped us work out where to place cranes and materials etc. It is possible to switch on and off different layers, such as foundations and piles, and different layers of structure for the bridge to make the holograms easy to understand."