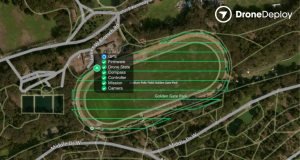 USA:- REIN's DroneInsurance.com, a digital drone insurance portal, announced a long-term collaboration with DroneDeploy, the leading drone software platform with the largest drone data repository in the world. Through this collaboration, commercial drone operators of all sizes can access DroneInsurance.com's enterprise-grade insurance solutions within DroneDeploy's desktop and mobile drone mapping apps.
"Seamless access to sophisticated tools including hardware, data analysis software, airspace management, and safety and compliance tools, is critical to a drone business' ability to thrive and scale," said Steve Rabbitt, President, and co-founder at REIN. "DroneDeploy is the leader in drone mapping software, offering a complete workflow to drone operators — from service providers all the way to enterprise organizations. With our shared goal of empowering businesses with the competitive edge they need to succeed, we are excited to complement DroneDeploy's robust drone business toolset with DroneInsurance.com's dynamic insurance solutions."
DroneInsurance.com is an automated platform offering dynamic policy solutions to address the unique risks, pain points, and insurance needs of commercial drone operators. For a monthly amount per drone, businesses can protect their ground operations. Then, operators can purchase Flight Liability Coverage on-demand, for as little as a day, or as long as a year, with a range of limits. Coverage options for essential flight equipment including sensors and ground stations are also available.
"As the drone industry begins to mature, our team is focused on providing turnkey solutions that help our customers increase efficiency, improve safety and deliver significant ROI," said Mike Winn, CEO and co-founder at DroneDeploy. "This collaboration with DroneInsurance.com allows us to provide our customers with access to industry-leading insurance solutions right within the DroneDeploy platform."