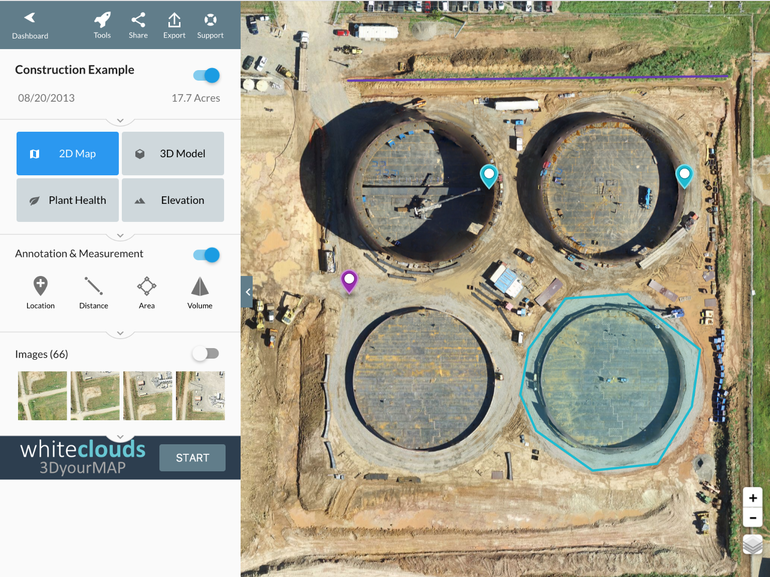 US: Cloud-based drone platform DroneDeploy today announced the opening of its App Market, the first drone industry app store. The store launched with more than 15 apps directed at businesses using drones. It also provides access to the world's largest data-set of drone 2D maps and 3D models.
The company's new App Market will provide a one-stop shop for businesses and developers to obtain apps for all aspects of cloud-based drone data analysis. The App Market is also open to third-party developers seeking to extend already existing capabilities of DroneDeploy's platform for the web and mobile devices (iOS and Android). The new DroneDeploy App Market allows users to download apps that become integrated with their DroneDeploy interface, which already includes eight million acres that have been mapped in 135 countries around the world.
"Businesses have been asking for a more seamless integration of drone data into their workflows, and third-parties have been looking to develop solutions for our global community," said Mike Winn, co-founder and chief executive of DroneDeploy.
The underlying DroneDeploy platform, which already has more than 10,000 users, behaves like a computer's operating system, and apps are the various software tools that users download to accomplish specific tasks. While word processing and photo editing are standard tools on a laptop, insurance and compliance apps are essential for commercial drone operators.
Darr Gerscovich, DroneDeploy's SVP of Marketing, explains, "These are integrated apps, so instead of downloading and opening an individual app, when you download the app, installs itself within the drone deploy interface. When you're using that DroneDeploy interface with the downloaded app, it's actually changing your experience."
He gives a basic example of AirMap, a popular app that operators use to check for nearby flight advisories. Previously, users would open the app to check for flight safety, and then they would open DroneDeploy to start flying. Now, as soon as users start to plan flights with DroneDeploy, they will be notified whether the flight path is safe or restricted.
Now that drones are affordable, easier to use, and not bogged down by strict FAA regulations, they are becoming tools for many industries. Drones can become a valuable tool for everything from building inspections, surveillance, land conservation, and delivery services, but widespread commercial adoption will require a plethora of apps designed to help solve business challenges.
"Regulations are not the blocking point anymore," says Winn. "The blocking points are building solutions for users."
In most cases, drones aren't the primary focus of a given job. Instead, they are tools that help people accomplish specific tasks for a project.
According to Winn, "On our platform, the majority of our users are actually not primarily drone operators. We have lots of those, too. But most people that are using a drone right now are actually using them like any other tool for their job."