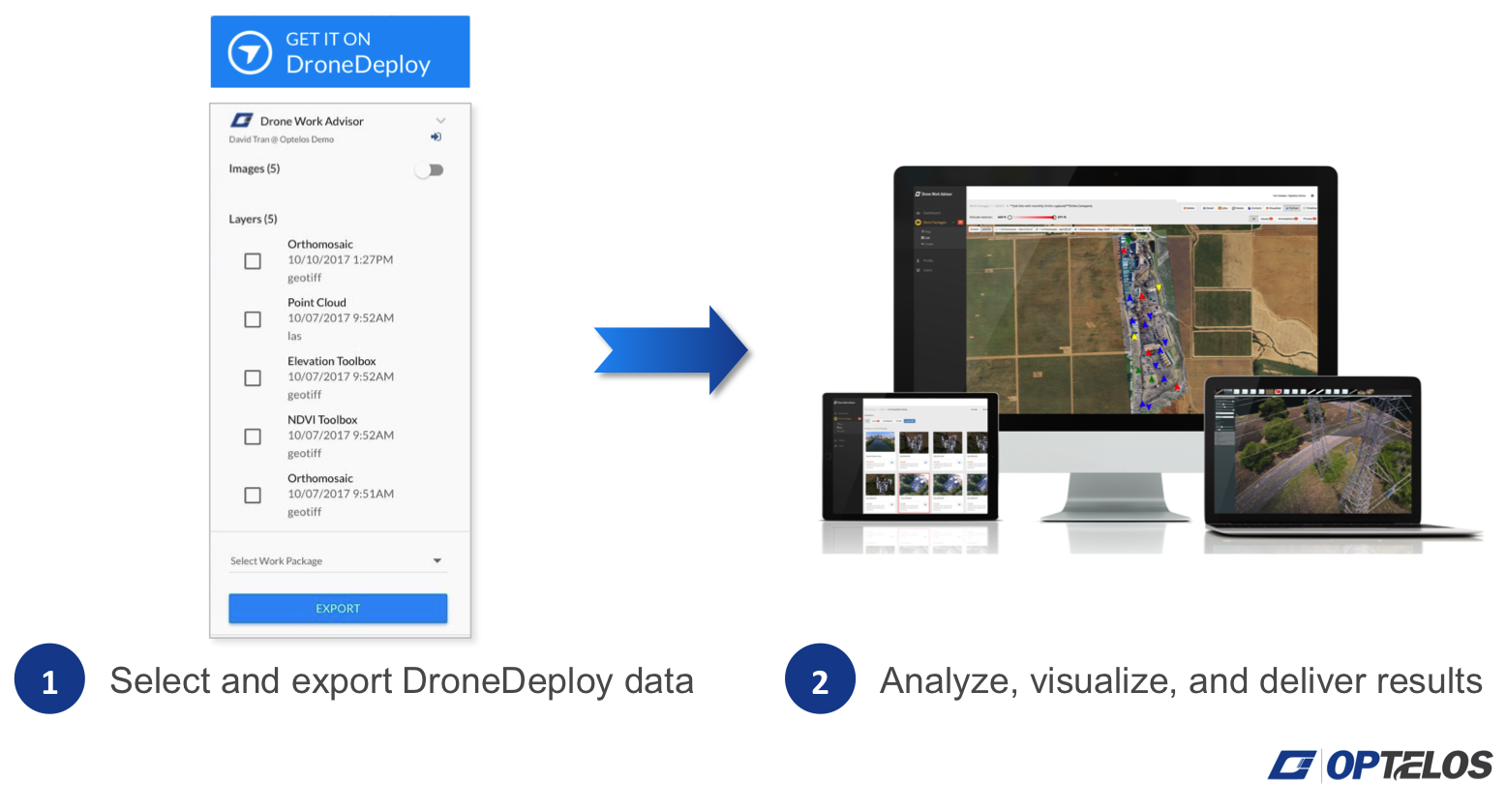 US: Just a few clicks and DroneDeploy users can transfer all of the images they have collected to Optelos and automatically create a new project that is very easily accesible. The time saving that this represents for users is critical, but David Tran, CEO of Optelos, said that's not the only business impact this app is set to enable.
"We think one of the key hurdles our industry currently battles with is that there are far too many disparate workflow steps from flight planning to data processing to the delivery of actionable data," Tran told Commercial UAV News. "The seamless integration between these steps is an important evolution in the drone space. Optelos sees this as a crucial step in helping businesses maximize the benefits that drones can provide; we believe that data by itself is meaningless.  Customers want actionable answers, so our goal at Optelos is to work with our partners, like DroneDeploy, to create a streamlined workflow between best-of-breed solutions to quickly turn data into business decision-enabling answers."
With Optelos' new app for DroneDeploy, the company has managed to eliminate multiple steps that were associated with exporting data between DroneDeploy and Optelos' Drone Work Advisor. Now, project data would directly be exported into the project of choice with Optelos' Drone Work Advisor within a matter of a few clicks. They automatically transform the data to provide Orthomosaic overlays, Pointcloud viewing, and optional AI analytics to inspect, tag, and classify results.  This means users can focus on driving real results instead of spending time transferring data.
After installing the app, DroneDeploy users can immediately upload their generated exports into our platform. They only need to login and choose which images and layers (Orthomosaic, 3D model etc.) they want to transfer.  The app is highly intuitive and makes the whole process quick and painless, even for novice DroneDeploy or Optelos users.
This app will open up the software to a variety of users, and those are users with various levels of experience with this type of technology, in a large number of industries.
"Optelos helps support Drone Service Providers (DSPs) & Enterprises of all sizes, across all markets from construction to insurance," Tran continued. "We see tremendous business impacts for customers that are heavily reliant on Orthomosaic and AI based analytical processing as part of their workflow deliverables. The streamlined integration between DroneDeploy's data modeling processing and Optelos' data management and AI Analytics platform will provide immediate positive impacts."
The Optelos app is free for Optelos Pro and Enterprise subscription customers.