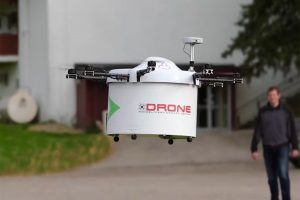 Canada: Drone Delivery Canada has announced that the Company has received $7.0 Million from the exercise of warrants which the expiry was accelerated to February 23, 2018 as previously announced on January 24, 2018.
"We are pleased to report essentially all of the Company's outstanding warrants are exercised. DDC now has approximately $23.5 Million in its treasury and has no warrants currently outstanding" commented Richard Buzbuzian, President.
About Drone Delivery Canada
Drone Delivery Canada is a drone technology company focused on the design, development and implementation of its proprietary logistics software platform, using drones. The Company's platform will be used as Software as a Service (SaaS) for government and corporate organizations.
Drone Delivery Canada Corp. is a publicly listed company trading on the TSX V Exchange under the symbol FLT, on the U.S. OTC Q B market under the symbol TAKOF and on the Frankfurt exchange in Germany under the symbol A2AMGZ.