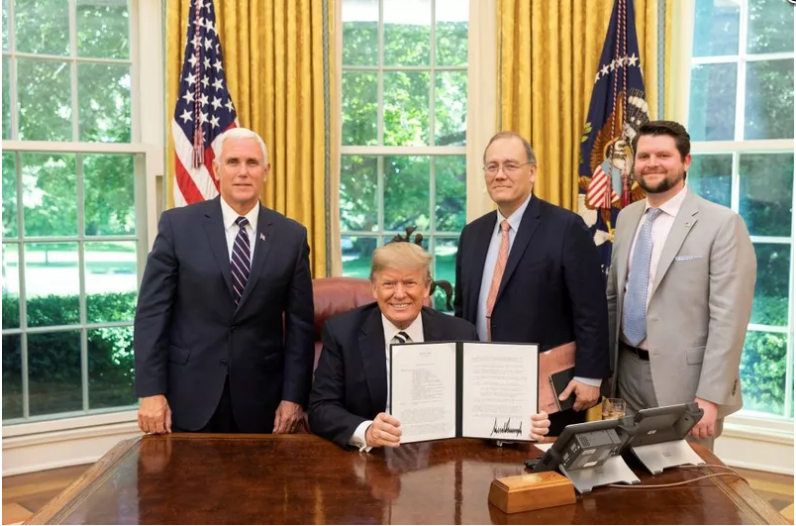 US: US President Donald Trump signed new Space Policy Directive on Thursday.
The main aim is to update what Trump calls outdated space policies. The framework is aimed mainly at ensuring American leadership in outer space.
The new rules direct the Secretary of Transportation to set up a new system to manage the launches and landings of commercial spacecraft. The Commerce Secretary has 30 days to create a one-stop shop to administer and regulate those flights.
"This time, we will not only plant our flag and leave our footprint. We will establish a foundation for an eventual mission to Mars," Trump said in a statement from the White House.
Vice President Mike Pence, said, "President Trump today signed Space Policy Directive-2 implementing four recommendations made by the National Space Council on February 21, 2018 at the Kennedy Space Center in Florida. This directive will encourage American leadership in space commerce by creating more certainty for investors and private industry, while focusing on protecting our national security and public safety. As President Trump says, "We're a nation of pioneers, and the next great American frontier is space."
As per a White House release:
Space Policy Directive – 2 (Directive) sets executive branch policy to ensure that government regulations adopted and enforced promote economic growth; minimize uncertainty for taxpayers, investors, and private industry; protect national security, public-safety, and foreign policy interests; and encourage American leadership in space commerce.
Under the Directive, the Secretary of Transportation is to release a new regulatory system for managing launch and re-entry activity, targeting an industry that is undergoing incredible transformation with regulations that have failed to keep up.
In writing the new rules, the Secretary will consider requiring a single license for all types of commercial space flight launch and re-entry operations and replacing prescriptive requirements in the process with performance-based criteria.
The President is committed to ensuring that the Federal government gets out of the way and unleashes private enterprise to support the economic success of the United States.
The commercial remote sensing industry is a critical national asset. As such, the Directive requires the Commerce Secretary to review commercial remote sensing regulations for consistency with the Directive's policy and address regulations that do not conform.
The current regulatory system is woefully out of date and needs significant reform to ensure the United States remains the chosen jurisdiction for these high tech companies.
President Donald J. Trump is committed to reform these systems in order to ensure American companies have every advantage in the international marketplace.
Within 30 days, the Commerce Secretary is directed to transmit a plan to create a "one-stop shop" within the Department of Commerce for administering and regulating commercial space flight activities.
Agencies are directed to present to the President a report on improving global competitiveness of United States space radio frequency spectrum policies, regulation, and activities at the International Telecommunication Union and other multilateral forums.
The Directive requires the National Space Council to review export licensing regulations affecting commercial space flight activity and deliver recommendations to the President within 180 days.