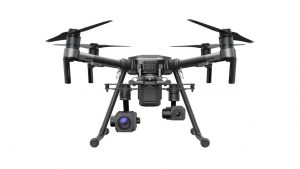 DJI has announced a new collaboration with Axon, a provider of connected law enforcement technologies.
Under the partnership, DJI drones will be sold directly to public safety and law enforcement agencies worldwide through the new Axon Air program.
The Axon Air program allows law enforcement agencies to purchase drones from a trusted partner and links DJI's drone technology with Axon's connected data network and Evidence.com services – the same platform that more than 200,000 public safety stakeholders use today.
Evidence.com provides a data management system, chain-of-custody controls and security protocols that law enforcement agencies rely on to preserve and protect data from body cameras and in-car video systems. Within Evidence.com, the integrity of drone video is preserved for the protection of police agencies and the public, the partners explain. Drones currently available for sale through the Axon Air program include the DJI Phantom 4 Pro and Matrice 210.
"As the requirements and demands of unmanned aircraft programs grow, Axon is partnering with agencies to build out solutions that meet the complexities and requirements of public safety," says Axon's executive vice president of worldwide products, Todd Basche. "Together, we will focus on creating situational awareness, advanced evidence collection and program management tools that will allow agencies to manage their drone program alongside their body camera and in-car video systems."
"DJI's partnership with Axon allows law enforcement agencies to add drone capabilities and data services through the same trusted provider they rely on for the tools, data and support they need to do their jobs safely and effectively," adds Michael Perry, managing director of North America at DJI. "Law enforcement agencies are rapidly adopting drones for their work and often need guidance on how to establish a drone program and integrate it into their departments. DJI's Axon Air partnership will strengthen and enhance law enforcement's ability to protect public safety, respond to emergencies and save lives."