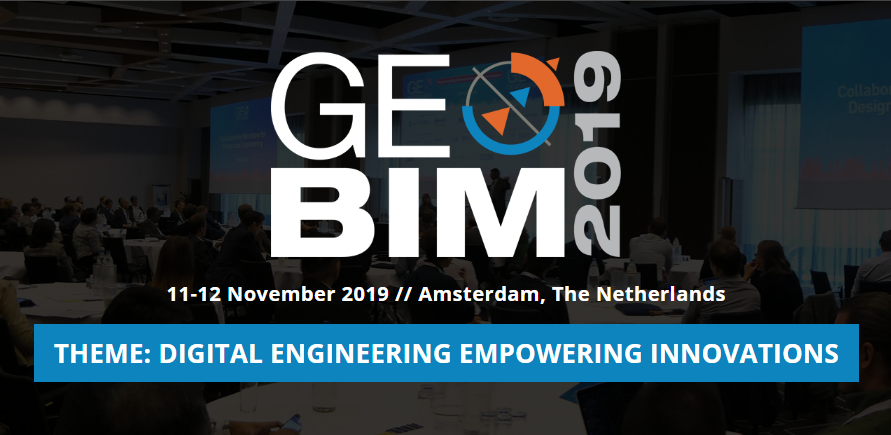 The Netherlands: GEOBIM (previously known as GeoDesign+BIM) is pleased to announce Autodesk Inc. as a Gold Sponsor of its event. The gathering of world leaders from the AEC, geospatial and BIM community is going to convene on 11th-12th November, in Amsterdam, the Netherlands. An exclusive platform for the construction stakeholders, the leaders at the summit will showcase the critical role played by BIM in optimizing construction workflows and company processes.
With the theme, "Digital Engineering Driving Innovations", GEOBIM 2019 will delve deeper into the integration of BIM and geospatial technology and its future. The conference will bring into light the immediate and future technology directions via its global sessions – Construction 4.0: Digitalization of the Built Environment, Affordances of Digital Twin Utilization of BIM across the Construction Workflow, Monetizing investments in GEOBIM, Digital Mapping of Underground Utility Infrastructure, among many other interesting topics.
"The continued convergence of GIS and BIM will enable our industry to do more, better with less and allow us to achieve the vision of smart infrastructure and smart cities. At Autodesk, we believe enabling the seamless movement of information between planning, design, construction and operations through improved BIM and GIS workflows will not only allow for better decision and improved designs but also reduce waste and risk in construction as well as lower long-term operating costs of assets for owners." Adds Theo Agelopoulos, Senior Director, Infrastructure Business Strategy and Marketing, Autodesk, Inc on Autodesk's participation at the conference.
"GEOBIM is an exclusive digital construction platform, and our ambition is to make the conference a user dominant conference. With the support of AUTODESK, we believe we are uniquely positioned to offer the users and the industry a platform to learn how BIM in construction can help them keep up with industry best practices," adds Anamika Das, Vice-President, Outreach and Business Development at Geospatial Media and Communications, the conference organizer.
 About GEOBIM
 GEOBIM is an exclusive platform in Europe wherein dialogues are initiated across the geospatial and the Building Information Modelling (BIM) community for utilizing integrated solutions, i.e. spatial technologies and BIM – duly augmented by digital technologies (IoT, Cloud, AR/VR) etc., to intelligently model construction projects. GEOBIM aims to highlight the role of geospatial information and technology in BIM processes, combining engineering processes with the design processes to increase efficiencies and reduce costs. The annual gathering of leading executives from the world of Architecture, Engineering, and Constructions (AEC) will convene in Amsterdam, the Netherlands from 11th -12th November 2019. Visit: https://geo-bim.org/europe/ to learn more.