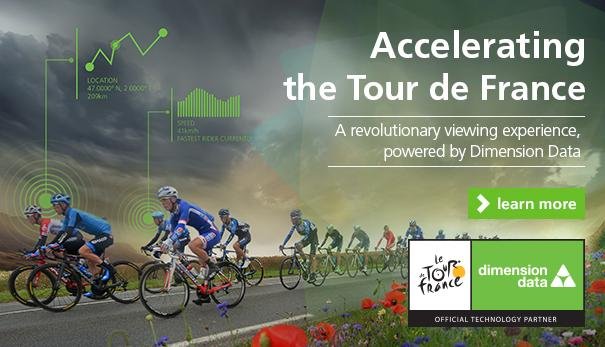 France: Dimension Data, the global ICT organisation processing and analysing the data coming from the next-generation tracking devices under the Tour de France rider's saddles has released a summary of the data the company processed and analysed for the first nine stages.
In the first nine stages, Dimension Data's technical team in the mobile big data truck travelling at Le Tour have processed data of 59.70 million records, and have rolled out 5,400 metres of cabling to date.
During the first nine stages there were four sprint finishes. While Mark Cavendish of Team Dimension Data won three of them, that didn't make him the fastest man on the road. Marcel Kittel (EQS) recorded the high speed of 74.27 km/h on stage 6.
The longest time that the riders were in the saddle was 05h 59' 54'' on stage 3. During stages 7, 8, and 9 in the Pyrenees, the riders climbed 9,000 metres which is higher than Mount Everest, with the slowest average speed on a single climb ranging from 13.6 km/h to 15.8 km/h.
Dimension Data said the rider data processed in its hybrid cloud solution is using over 100 virtual servers leveraging 300 unique cloud services that are delivered at 99.999% availability. Another technology highlight is 198 rider in 22 teams generate 42,000 spatial points and 75 million geospatial points.
Adam Foster, Dimension Data's Group Executive, Sports Practice said, "The new next-generation tracking devices under the rider's saddles have increased the data capture coverage range ten-fold: from 100 metres in 2015 to 1,000 metres this year. This means we can tell richer and more enhanced stories as they happen, giving viewers, the media, cycling fans and race commentators deeper insights into some aspects of the sport that weren't available until now."