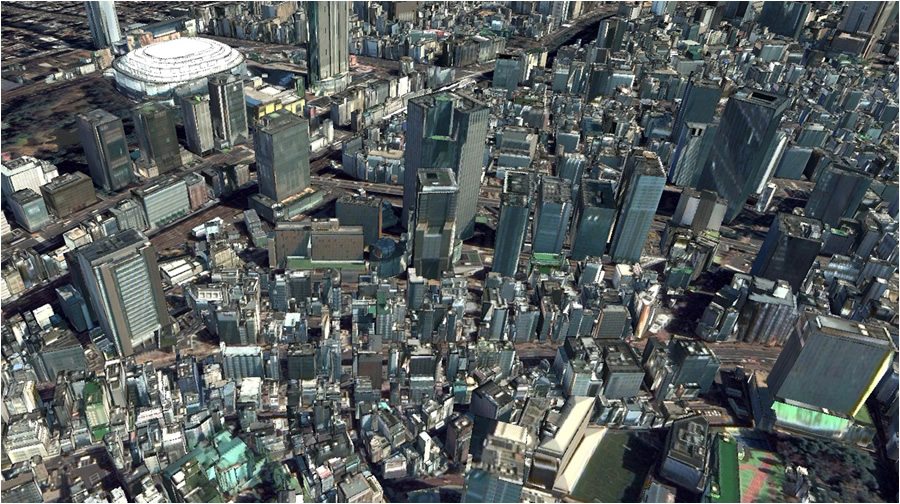 US: DigitalGlobe and NTT DATA Corporation have signed an agreement to extend their strategic partnership to produce large-scale 3D vector building model datasets, called AW3D Metro. The partnership will combine NTT DATA's elevation expertise with DigitalGlobe's high-resolution imagery and platform capabilities to create one of the highest resolution 3D datasets that offers significant coverage and rapid delivery timelines.
NTT DATA, as one of the leading providers in global elevation data with its AW3D series, will create off-the-shelf 3D vector building, vegetation and bridge models using DigitalGlobe's Geospatial Big Data platform (GBDX) and imagery. GBDX, a powerful, cloud-based tool with access to DigitalGlobe's 100 petabyte imagery archive, can harness machine learning algorithms to revolutionize traditional 3D production models. By using NTT DATA's cutting-edge algorithm on GBDX, the two companies will be able to develop AW3D Metro in a more cost-effective and timely manner.
These vectorized datasets will appeal to a variety of industry players who are implementing the fabric of our increasingly connected world, such as automotive, insurance and government. It will enable them to make decisions with confidence on projects such as connected device management, navigation visualization, insurance risk mitigation and smart city planning. The partnership will initially produce 3D texturized vector building models with better than 1 meter accuracy within Japan and other areas of commercial interest.
"3D building models are vital to the design and implementation of the infrastructure that will fuel smart cities, IoT and autonomous vehicles. Therefore, we are excited that NTT DATA selected GBDX and our imagery to further extend our IPP partnership," said Amy Minnick, DigitalGlobe Senior Vice President and General Manager of Commercial Imagery. "This new agreement demonstrates the power of bringing our industry-leading high-resolution satellite imagery together with the computational capabilities of GBDX to create innovative, cost-effective and scalable solutions for our partners. We look forward to NTT DATA using our products to enhance their expertise in creating vector datasets, especially in metro areas."
"We are delighted this expansion of our strategic partnership allows us to add the game-changing AW3D Metro to our portfolio," said Mr. Shinichi Usui, NTT DATA Senior Vice President. "By leveraging GBDX's ecosystem, we will be able to deliver these high-resolution 3D datasets to our customers more quickly, which will help our customers transform their operations into more future-capable and sustainable businesses."